CONTINUED DAM BUILDING AND CONTINUED SKIRMISHING
On this day, the right wing of the regiment continued work on Bailey's Dam, across and just up the Red River from Alexandria, Louisiana. About the left wing, camped on the west bank of the river near the city, Pvt. Robert Newt Gorsuch, Company B, tells us the following:
Move our camp to the extreme left and stop in the woods. Draw rations. The enemy have followed us back closely and are new near. Much picket firing just after dark. Sleep with our accouterments on.
The 16th Ohio and other troops had driven the Confederates back up Bayou Rapides the day before and were now camped and holding a position about eight miles northwest of Alexandria. The Rebel forces, under Gen. Richard Taylor, harassing the Union troops in and around Alexandria were desperate to strike a fatal blow with hopes of changing the outcome of the war. As smart and aggressive as Taylor was, and as hesitant and indecisive Gen. Banks seemed to be, the Confederates just didn't have enough manpower to make an all out attack on the much larger Union force.
---
This period military map is annotated with the approximate campsite of the 16th Ohio and other Union troops defending Alexandria, Louisiana, and where the 16th Ohio would stay until May 13.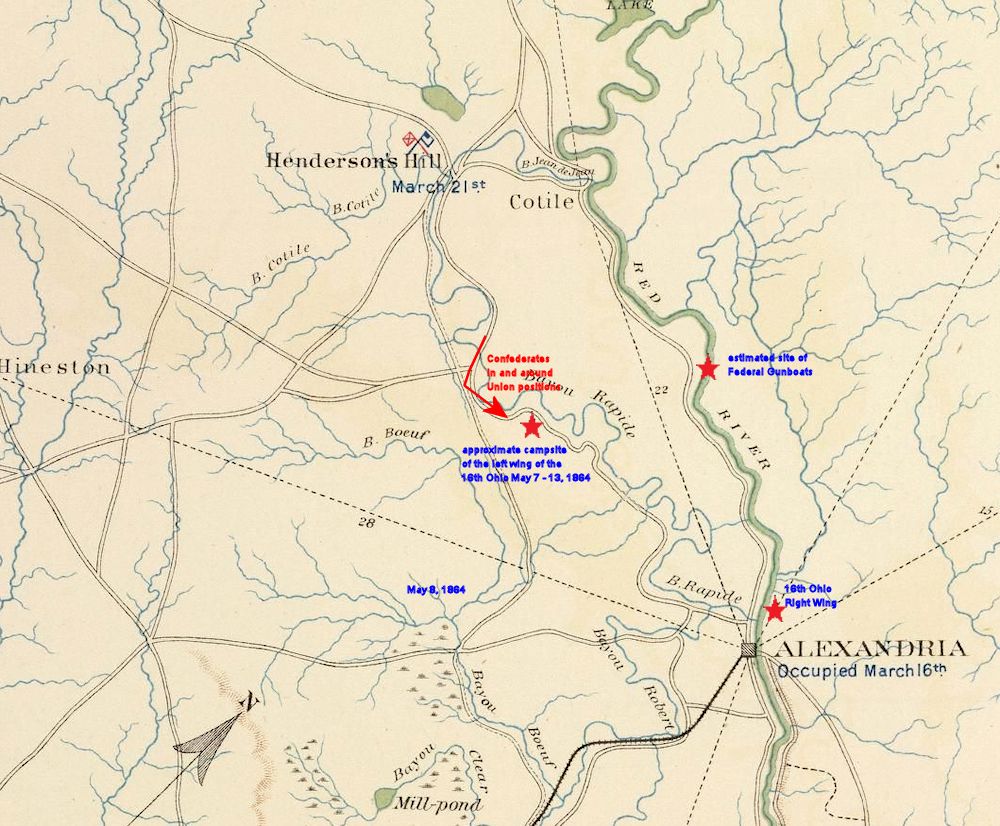 ---
This map shows the location of the dam, across the Red River just north of Alexandria, Louisiana, designed by Col. Joseph Bailey and built by troops investing the city and under Gen. Nathaniel Banks, including the 16th Ohio. The right wing of the 16th Ohio was probably the first unit assigned to begin building the dam, part of a desperate effort to raise the river level and allow the Federal gunboats, stranded above the upper rapids, to move down the river to safety. Many other soldiers would join them. The 16th Ohio began work on the east side of the river while other units worked from the west side.