TEACHING THE REBELS A LESSON
On this day, the right wing of the 16th Ohio continued to work on building Bailey's Dam, across the Red River near Alexandria, Louisiana. At 6:00 am, the left wing was ordered out with the two brigades to the front, west of Alexandria, to engage the enemy. They drove the Confederates back seven or eight miles, taking several prisoners and killing or wounding several more. The Union suffered one killed and 15 wounded and returned to their camp about 9:00 pm.
Also on this date, General John McClernand, commander of the 13th Army Corps, which included the 16th Ohio, became too sick to command the troops. General Michael Lawler took temporary command. Lawler was a no nonsense commander and it may be speculated that he took the opportunity to immediately implement a more aggressive style of leadership, including, on the very day he took command, taking the offense and attacking the Rebels which had been harassing the somewhat demoralized Union army defending Alexandria for many days. Again, this is just speculation. Cpl. Theodore Wolbach, Company E, describes Lawler's first day:
On the 5th, Lawler, with two brigades, went out again and found a considerable body of the enemy willing to fight, but a vigorous bayonet charge made them break from every position they took. Lawler was the right man in the right place. Bluff and brave and full of Irish audacity, never stopping to waste time in tedious reconnoisances or to count the noses of an opposing force, but went straight to work in a manner that meant blood-shed. The troops under Lawler, inspired by the zeal of their commander, obeyed orders with fearless alacrity.
---
This period military map shows the approximate position of the 16th Ohio's left wing in camp near Alexandria, Louisiana, and the right wing on the opposite bank of the Red River helping to build Bailey's Dam, on May 5, 1864.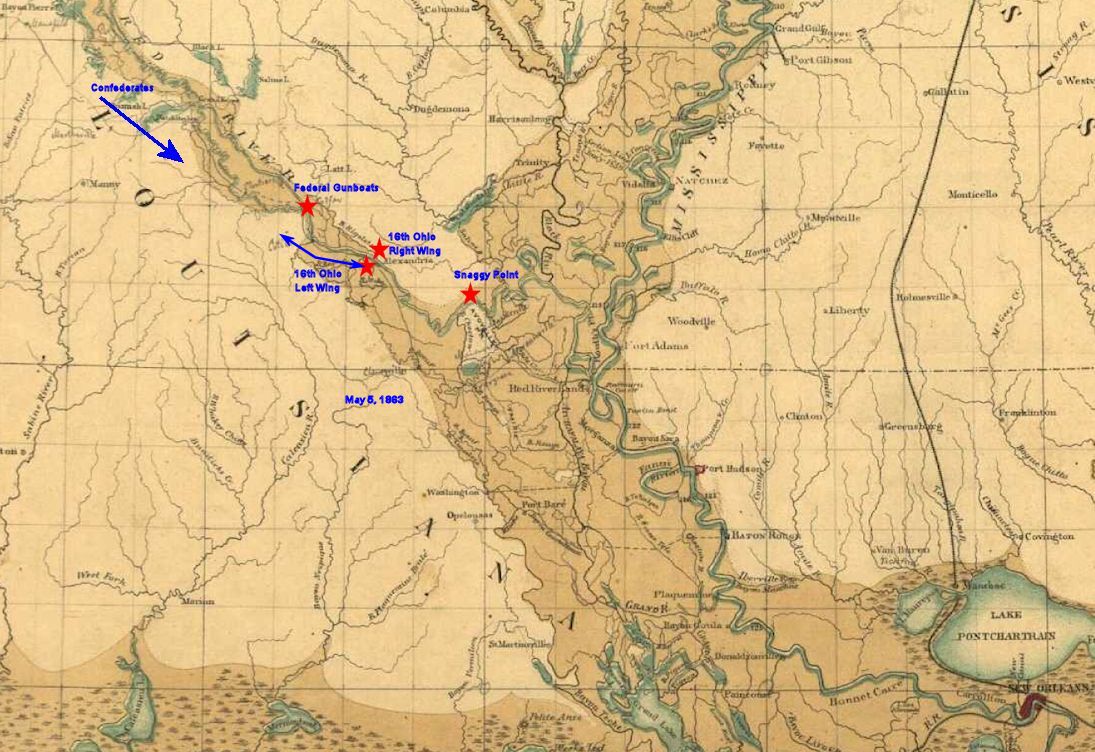 ---
This map shows the location of the dam, across the Red River just north of Alexandria, Louisiana, designed by Col. Joseph Bailey and built by troops investing the city and under Gen. Nathaniel Banks, including the 16th Ohio. The right wing of the 16th Ohio was probably the first unit assigned to begin building the dam, part of a desperate effort to raise the river level and allow the Federal gunboats, stranded above the upper rapids, to move down the river to safety. Many other soldiers would join them. The 16th Ohio began work on the east side of the river while other units worked from the west side.