DEFENDING ALEXANDRIA AND SAVING THE FLEET
Today, the left wing of the 16th Ohio, having been moved to the front, guarding Alexandria, Louisiana, the day before, was relieved by the 114th Ohio and returned to their camp, closer to the city. Private Peter Perrine, Company C, states:
May 1st. The 16th is relieved by the 114th and return to camp. The Right wing of our Regt is building a dam over the river so that the Gun Boats can get over the falls. many of our best gun Boats being in a bad fix.
The right wing of the was, it is assumed, hard at work building a dam across the Red River, just above Alexandria, hoping to raise the water level and let the stranded Federal gunboats, several miles upstream, pass down the river.
---
This period military map shows the approximate position of the 16th Ohio's left wing in camp near Alexandria, Louisiana, and the right wing on the opposite bank of the Red River helping to build Bailey's Dam, on May 1, 1864. The Federal gunboats, under Admiral David Porter, were trapped several miles upstream, above a set of rapids that were not navigable during low water.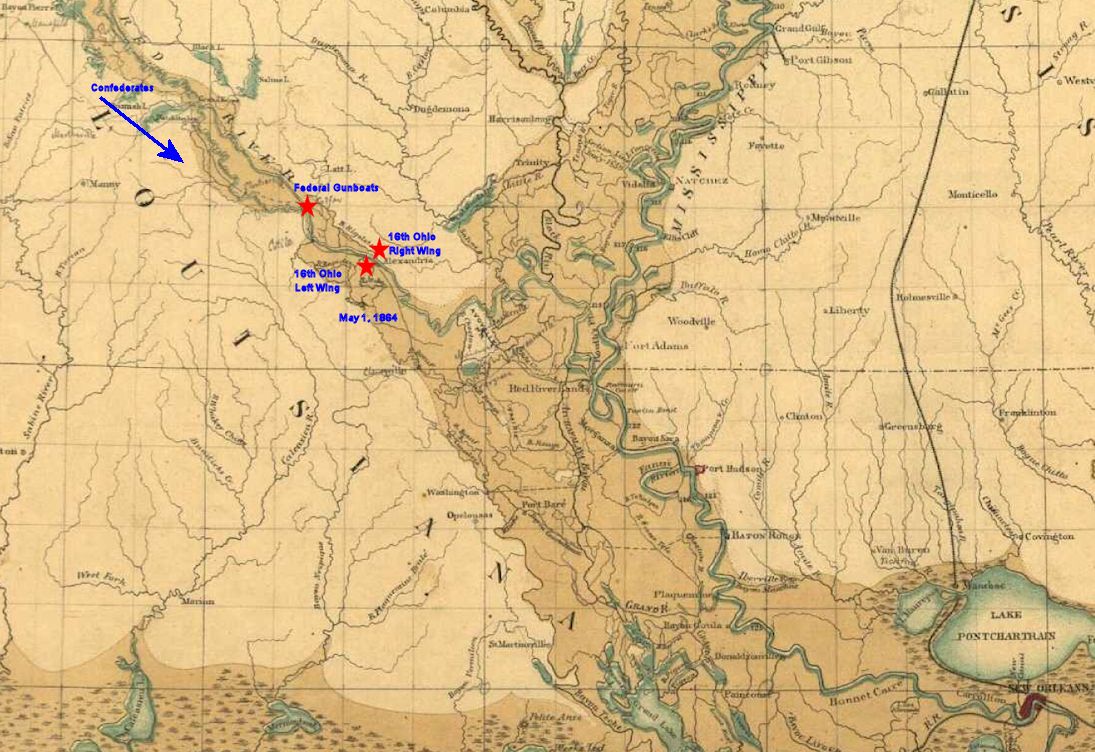 ---
This map shows the location of the dam, across the Red River just north of Alexandria, Louisiana, designed by Col. Joseph Bailey and built by troops investing the city and under Gen. Nathaniel Banks, including the 16th Ohio. The right wing of the 16th Ohio was probably the first unit assigned to begin building the dam, part of a desperate effort to raise the river level and allow the Federal gunboats, stranded above the upper rapids, to move down the river to safety. Many other soldiers would join them. The 16th Ohio began work on the east side of the river while other units worked from the west side.