ANOTHER MONTH ON THE TEXAS COAST
During this time, the 16th Ohio camped on Matagorda Island, is is believed in the vicinity of McHenry Bayou and the village of Saluria, Texas, and near Pass Cavallo, opposite Decrow's Point, Matagorda Peninsula. The exact location has not been determined. Private Peter Perrine, Company C, briefly mentions:
We remain as guards at Division Headquarters.
It is not known if this statement refers to just Company C or the entire regiment. In any case, most of the Union troops were at or near Fort Esperanza, and would remain there until April 18.
Confederate forces were just inland, not far from this area, and threatened the 13th Army Corps and the 16th Ohio, with a goal of pushing the Union out and re-taking Texas for the South.
---
Detailed map from 1872 attributed with the approximate site of the 16th Ohio's camp from March 13 to April 18, 1864.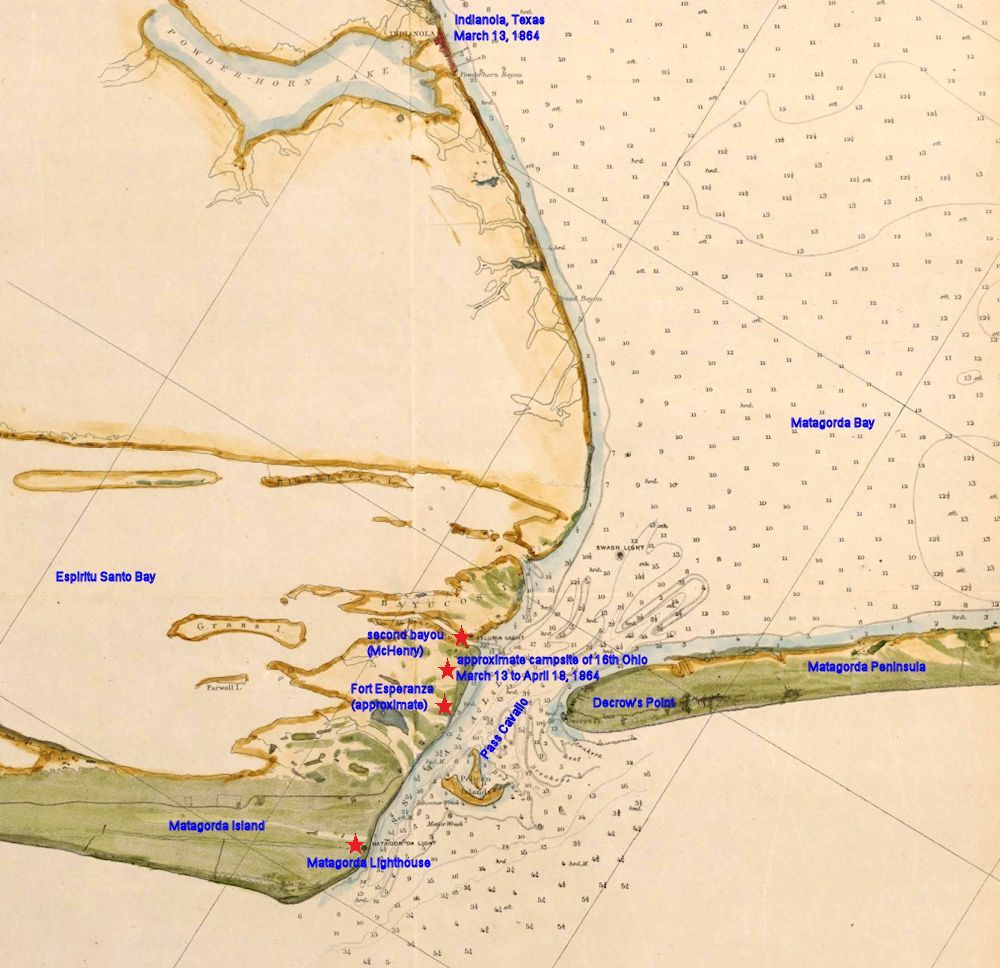 ---
Period map (source unknown) showing more detail on Saluria, Texas, and McHenry Bayou. It is likely the 16th Ohio would have been camped close to this spot to the southwest and along the coast of Pass Cavallo. Note the Saluria Lighthouse shown across the bayou from Saluria. This is the bayou where 23 soldiers from the 69th Indiana Infantry were drowned when a pontoon tipped, throwing many men, heavily laden with military gear, into the water.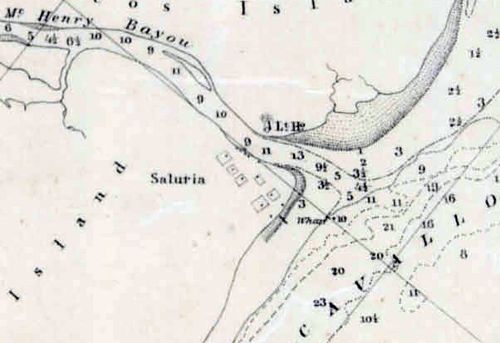 ---
Wide view modern day map showing the location of the 16th Ohio in relation to large Texas and Louisiana cities.
Blue
pin - Indianola, Texas - where the 16th Ohio Volunteer Infantry landed on January 13, 1864, and would camp until March 13, 1864.
Green
pin - Approximate site where the 16th Ohio camped from March 13 to April 18, 1864, near Saluria, Texas, on Matagorda Island, across from Decrow's Point on Matagorda Peninsula.