A GRAND REVIEW
On this day, the regiment, camped in Carrollton, Louisiana, a few miles west of New Orleans, participated in a Grand Review by Major General Nathaniel P. Banks. Drummer Thomas B. Linn records:
Grand review of our Corps by Gen. Banks this afternoon. The Corps formed in Columns by divisions.
Day before yesterday we had a real old Eastern Army review by Maj. Gen. Banks himself. It was a grand affair. We all marched down the railway about two miles to a large open field where we formed in column of Divisions. All of our Corps were out. Gen. Washburn has command while Gen. Ord is gone and Col. Lindsey has command of our division. We are first division and in first line. Gen. Herron's division formed the second line, the third division, the third line and the artillery the rear line. We had not been in position long until the boom of the cannon announced the arrival of the big little man. He rode along the whole line both in front and rear and I think he reviewed a little better army than he ever did before or will again till he sees the same men another time. He then took position and we marched by in review and all was over.
---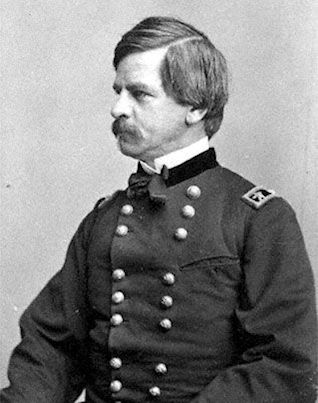 General Nathaniel Prentice Banks
---
Period military map showing the approximate campsite of the 16th Ohio at Carrollton, Louisiana, from August 16 to September 5, 1863.