MAINTAINING THE REAR GUARD
On June 24, the regiment moved its camp a short distance northwest to a place near Bovina Station, the camp being named Camp Alice. During this time the regiment and various units of Gen. Osterhaus' division performed rear guard duty, making sure Confederate General Joe Johnson didn't attack Grant's force engaged in the siege of Vicksburg, about 10 miles west. Gen. Johnson continually sent troops toward Osterhaus' line, looking for vulnerabilities that might give him a chance to break through and attack Grant from the east.
Although performing a critical and dangerous service guarding the rear of Grant's siege force at Vicksburg, the 16th Ohio and other troops were sad to miss the actual surrender and celebrations by the troops who were there during the momentous event.
Bitter controversy during and after the war raged over Johnson's actions, as to whether he was unable or lacked the desire to make an all out effort to relieve Gen. Pemberton, defending Vicksburg from the Federal army. The relationship between Confederate Generals Joe Johnson and John Pemberton was strained and some propose this had an affect on Johnson's decision not to attempt relief of Pemberton at Vicksburg.
---
Period map showing the approximate campsite of the 16th Ohio near Bovina Station, Mississippi, June 24 through July 5, 1863: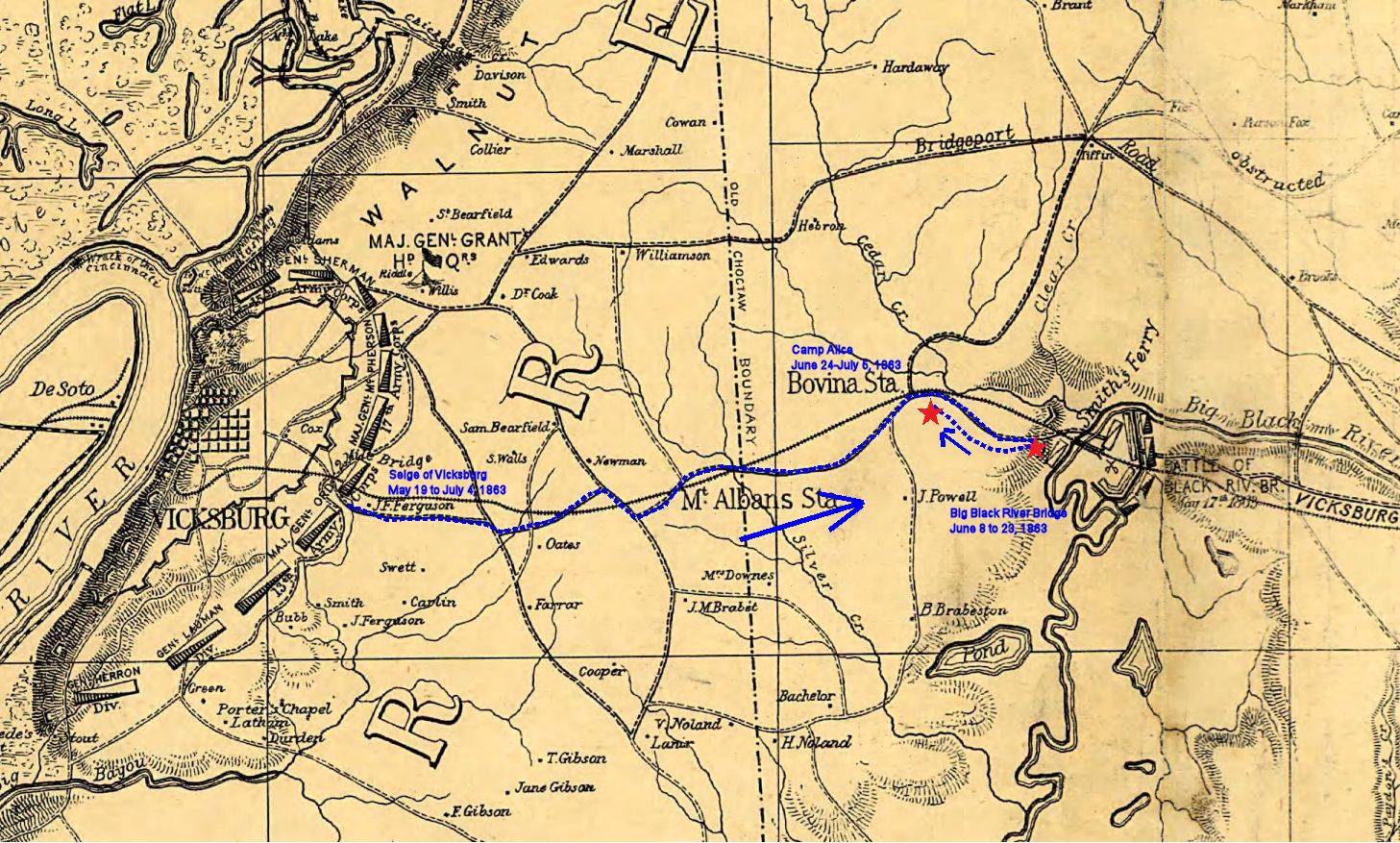 ---
Modern day map of the 16th Ohio's march from their position on the siege line at Vicksburg, Mississippi, to their camp near Big Black River Bridge and then to Camp Alice, near Bovina Station. Route and positions are estimated based on current research:
Red
pin - approximate position of 16th Ohio with Gen. Osterhaus' Ninth Division from May 19 to June 8, 1863, on siege line at Vicksburg, Mississippi.
Green
pin - approximate campsite of 16th Ohio west of Big Black River Bridge, June 8 through June 23, 1863.
Yellow
pin - approximate campsite (Camp Alice) of 16th Ohio near Bovina Station, Mississippi, June 24 through July 5, 1863.