BACK TO BIG BLACK RIVER
On this day, the 16th Ohio, and most of Gen. Osterhaus' Ninth Division, received orders to march east to Black River, near the site of that battle several weeks earlier. The move is described by Cpl. Theodore Wolbach, Company E:
The weather was very warm, yet the men marched blithely and we accomplished the distance, ten miles, in a reasonably short time. We encamped about a half mile west of the ruins of the bridge, on an elevated plateau flanked by ravines that run down to the river. The ground had been occupied for camp before and was tramped hard. Much common camp debris covered the site.
Nearly all of our division, (9th,) was on hand. Two regiments, 22nd Ky. and 42nd Ohio, of our brigade, were back at Vicksburg, but came up soon. To be free to walk about without bullets zipping close to our ears was a relished relief. There were no camp guards to confine us to narrow limits. The boys came and went as they pleased between duty hours. The cooking was done by hired contrabands, and for a short period we were not burdened with very arduous duties. Details for picket were heavy, but this work was light compared to the tedious service in the trenches we had left. Sudden alarms, several times, required the speedy assembling of the regiment. Preceding these the boys might be scattered around under the neighboring trees, in the shade, or down by the streams bathing, and very few in camp. At the first notes of the bugle there was a scampering for quarters to get into line that would have tickled any disciplinarian.
On the day of our arrival here, Gen. Osterhaus, while reconnoitering with a small detachment of cavalry beyond the river, was almost captured by the enemy.
It may be speculated that Osterhaus' Division, including the 16th Ohio, was pulled off the siege line at Vicksburg and sent east to Big Black River as a rear guard, Gen. Grant knowing Confederate General Joseph Johnston had a large force in the area with a strong desire to relieve Pemberton's besieged garrison at Vicksburg.
---
Period map showing the approximate route of the 16th Ohio as they were sent east from the siege line at Vicksburg to Big Black River Bridge.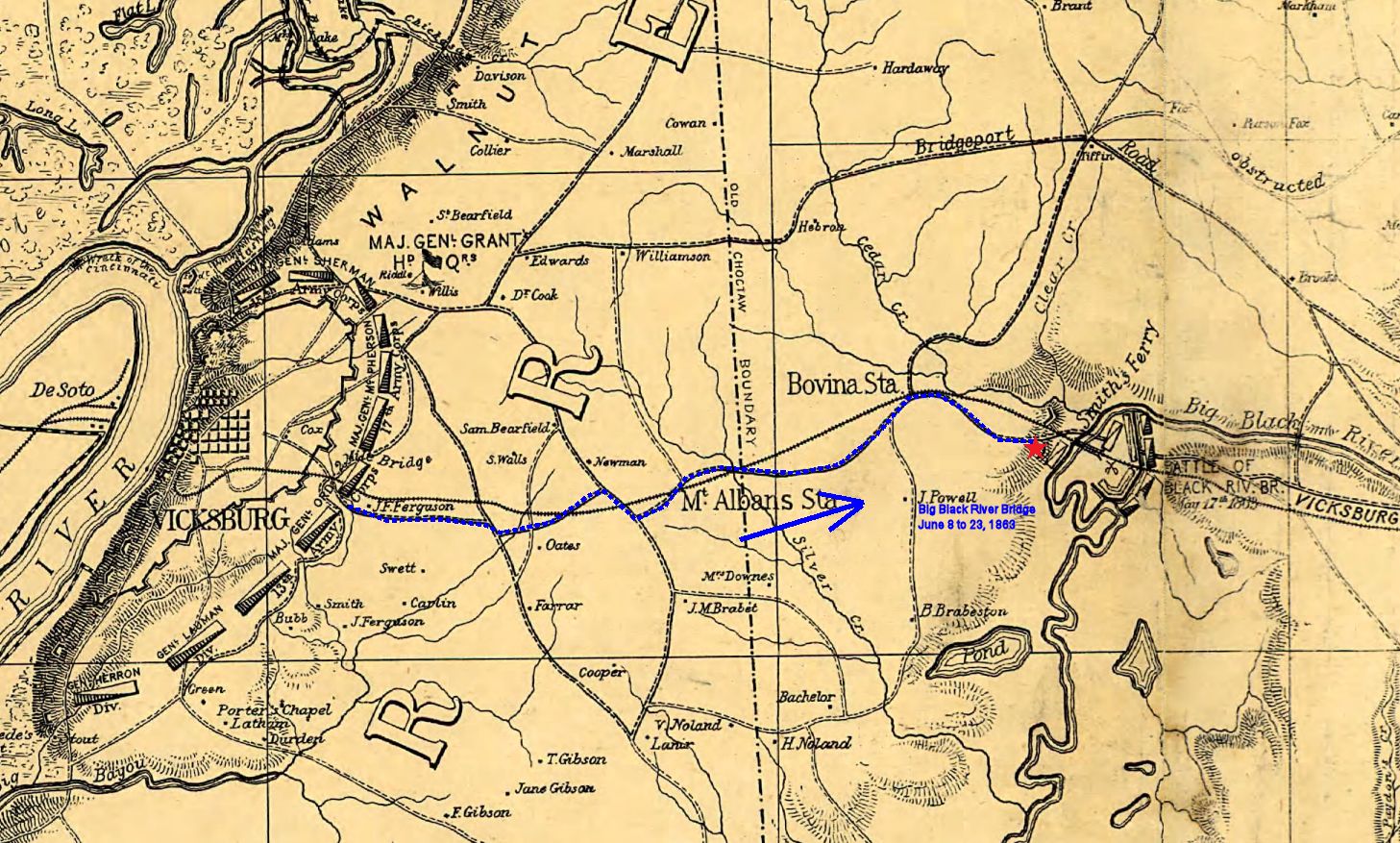 ---
Modern day map of the 16th Ohio's march from their position on the siege line at Vicksburg, Mississippi, to their new camp near Big Black River Bridge. Route and positions are estimated based on current research:
Red
pin - approximate position of 16th Ohio with Gen. Osterhaus' Ninth Division from May 19 to June 8, 1863, on siege line at Vicksburg, Mississippi.
Green
pin - approximate campsite of 16th Ohio west of Big Black River Bridge, June 8, 1863.