PUSHING THE REBELS BACK TO VICKSBURG
Today the regiment awoke from their camp and prepared to continue the pursuit of Gen. Pemberton's fleeing army of Confederates toward Vicksburg..
Corporal Theodore Wolbach, Company E, describes this day:
The next morning, the 18th, we crossed the river on a floating bridge made of dry timber, and moved out leisurely toward Vicksburg. Many stragglers from Confederate regiments, thoroughly demoralized, were scattered through the country. Some of our boys, slipping away from the line of march, encountered these fellows and generally found them willing to surrender. An incident is related of one of our men running across ten or twelve of the enemy in a ravine in the woods not far from the road. He was naturally a little surprised, but not finding them on the shoot, demanded their surrender. One of them replied that they were willing to become prisoners but would not consent to go along with one man, and advised our fellows to go back for help. He acted on the suggestion and the fellows were soon taken in.
A few hours out on the road brought us to the smoking ruins of a bridge that did not retard our march very much as we marched around it. Trusty contrabands to-day aided us very much by acting as pilots. It appears in reviewing the events of this campaign that we were the only Federal force that had been compelled to fight for the passage of the Big Black River. Up the river to our right Sherman had been detained an aggravating length of time by a Confederate Lieutenant and ten men behind an entrenchment on the west side of the ferry at Bridgeport. After capturing the little squad, the pontoons, the only ones in the army in Mississippi, were put down and Sherman's men passed over.
On the night of the 18th we bivouacked in line and ready for action. We were but little wearied after a short march of eight miles.
---
Period map showing the approximate route of the 16th Ohio, with Gen. Osterhaus' 9th Division, from their camp at Big Black River Bridge to a point three miles east of Vicksburg, Mississippi: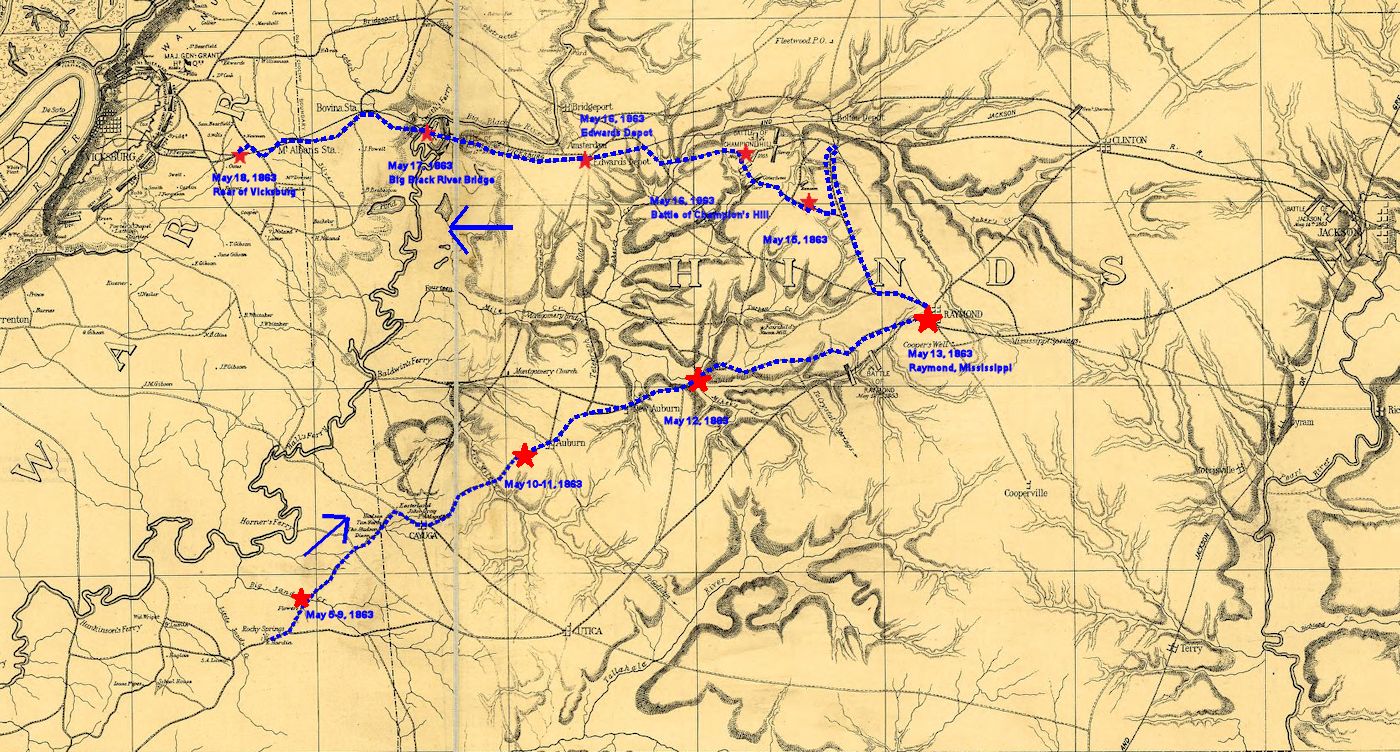 ---
Modern day map of the 16th Ohio's march from Big Black River Bridge toward Vicksburg and the approximate point at which the regiment camped on the night of May 18, 1863. Routes shown are approximated:
Aqua
pin - Edward's Depot. Mississippi, where the 16th Ohio and many of Grant's forces rested on the night of May 16, 1863, before resuming their pursuit of the Rebels the next morning.
Lavender
pin - Battle of Big Black River Bridge, where the 16th Ohio and Grant's large force attacked the Rebels making their last stand in defence of Vicksburg, 11 miles to the west.
Yellow
pin - approximate campsite of 16th Ohio, three miles east of Vicksburg, on the night of May 18, 1863.