THE MARCH TOWARD VICKSBURG
On this day, the 16th Ohio, with Gen. Osterhaus' division, left Raymond, Mississippi, and marched towards Bolton Station. Pvt. Peter Perrine, Company C, describes their rather circuitous route:
Left Raymond and marched towards Bolton Station. Arrived within 3/4 of a mile of the place. Found Hovey & Crockers Division on the road, so we turned back went 3 miles & took another road to Edwards depot. After going about one mile on this road we camped for the night. Pickets have some skirmishing.
Again, Cpl. Wolbach provides great and interesting detail on the events of this day:
The 15th opened out fairer. In good season in the morning we started out at a lively pace for Bolton, several miles north. Weather was fine and marching easy, and in a short time we reached the Jackson road. The hastening of regiments to get into line of battle here looked a little as if there was a rumpus on hand. Our wagon train was corralled in the rear of the line; surgeons with ambulances and attendants took their regular positions. Facing west our corps lay in line several hours. Ten thousand muskets and eight batteries of field artillery stood ready to receive or strike a blow as soon as the forces of the enemy came near enough. They were in our front and not very far away, but their exact position was not known to us. Far back toward Jackson we saw the glittering gun barrels of McPherson's corps (17th) coming to our support. They in conjunction with Sherman's corps, (15th,) had struck and defeated a small force under the Confederate Gen. Joe Johnson, the day before at Jackson. Sherman's corps remained a day in and around the captured place to destroy rebel property and tear up railroads, and McPherson's was ordered to form a junction with our corps. As the advancing regiments got within supporting distance of us we broke our line and advanced leasurely [sic] westward. Small squads of cavalry in the extreme front exchanged shots with the enemy's advance until the opposing forces were so close to each other that it was a bad place for the cavalry to be sandwiched between. The activity of staff officers and mounted couriers told the old story that the fight was on once more. In the afternoon we deployed into line again and took matters a little easy. Osterhaus' division occupied a locality that was principally covered with heavy timber and almost entirely free from underbrush. The position of the 16th overlooked a fine open country beyond. A mile away at the edge of a woods were some moving objects that our boys were trying to make out. Some were positive that they were rebel soldiers; brought under a field glass they resolved themselves into quadrupeds lazily moving about in the shade. Lines of imaginary rebels proved to be long piles of cordwood. While some of the boys were yet amusing themselves with these observations, several spiteful shots not far away to our left front put every man keenly on the lookout. Soon the report came in that the enemy were feeling our skirmish line and one of the Company A boys had his side grazed by a bullet. The serious aspect of things did not deter the boys from foraging a little. A beef was driven in and killed, and a hogshead of sugar rolled out from some obscure place and divided. The 22nd Ky. and the 16th being on very friendly terms, participated together in these little enterprises. Federal troops wee seen moving forward on our right. These were Hovey's men who were moving on another road.
---
Period map showing the route of the 16th Ohio, with Gen. Osterhaus' 9th Division, from Raymond toward Bolton Station, turning around and taking an alternate route in the direction of Edward's Depot, Mississippi, camping on the road on May 15, 1863. This map also shows the positions of Osterhaus and other units at the Battle of Champion's Hill which occurs the following day. It should be noted that, at this writing, the routes shown are notional but likely. The map will be updated if additional detail is found: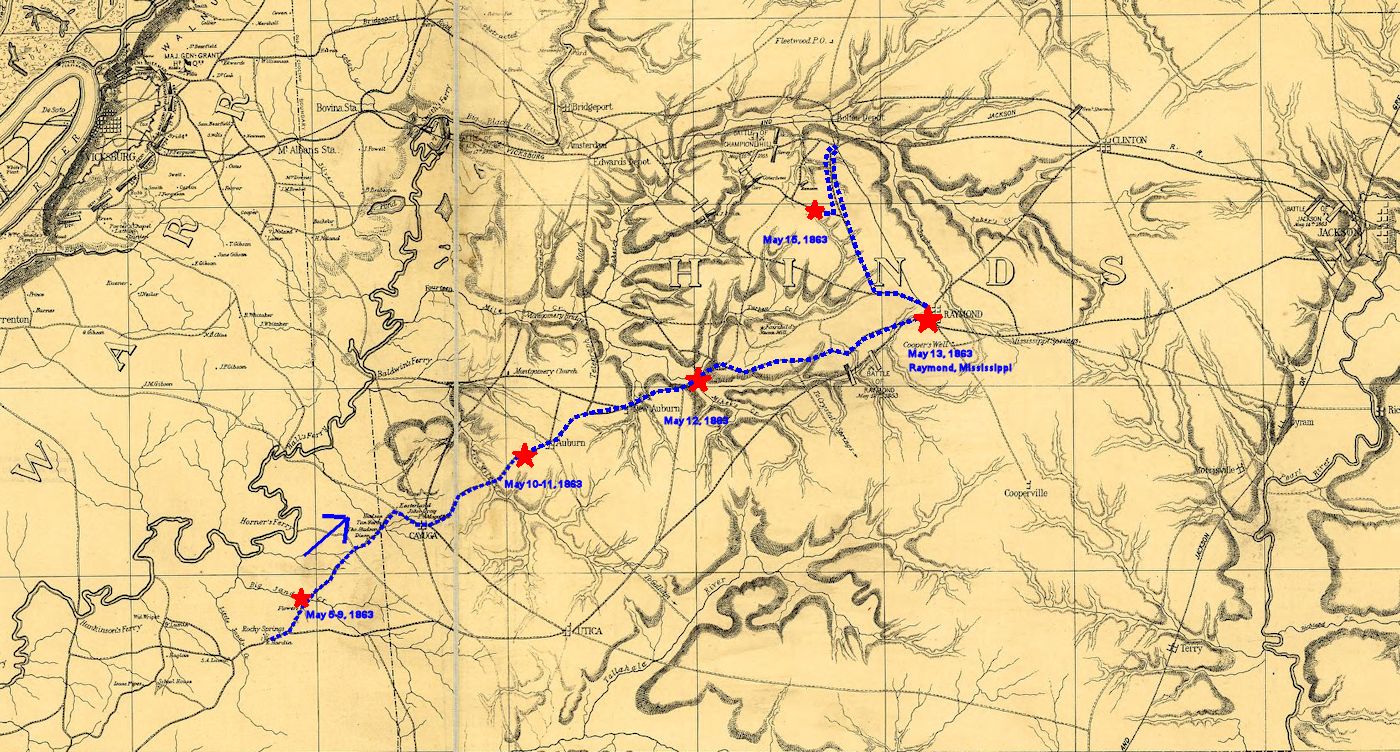 ---
Two modern day map views of the 16th Ohio's march from Raymond to within 3/4 mile of Bolton Station, and back to use a different road toward Edward's Depot, Mississippi, on May 15, 1863. Roads. Routes shown are approximated but believed to be very close to those taken:
Lavender
pin - Village of Rocky Springs, the approximate position of where the 16th Ohio camped on the night of May 3 and May 4, 1863.
Purple
pin - approximate campsite of 16th Ohio on The Jackson Road at Big Sandy Creek May 5 through 9, 1863.
Yellow
pin - approximate campsite of 16th Ohio on the Jackson Road (now called Old Port Gibson Road) on the night of May 10 and all day May 11, 1863.
Green
pin - approximate campsite of 16th Ohio on the Jackson Road near Fourteenmile Creek on the night of May 12, 1863.
Red
pin - Raymond, Mississippi, where the 16th Ohio with Gen. Osterhaus' division camped during the rainy day of May 14, 1863.
Blue
pin - approximate location where the 16th Ohio camped on the night of May 15, 1863, the eve of the Battle of Champion's Hill..