PREPARING TO CROSS INTO MISSISSIPPI
On this day the 16th Ohio, along with Gen. P.J. Osterhaus' 9th Division and other units, landed on the Louisiana side, at Hard Times Landing. The original intent was to land at or near Grand Gulf, on the Mississippi side, thus achieving the river crossing, however, the Union gunboats, after shelling the Rebel fortifications and batteries for much of the day, were unable to completely silence them. Trying to land a large force within range of active enemy cannon fire would be disaster so Grant chose to land on the Louisiana side at Hard Times Landing. After landing, the troops marched along a levee, several miles south to a point near the Mississippi River and camped for the night, having observed or heard the continuous cannon fire between the Rebel batteries at Grand Gulf and the Union gunboats.
Cpl. Theodore Wolbach, in his post-war account of the 16th Ohio, writes of this day:
On the 29th of April we moved down to Hard Times landing, three miles above Grand Gulf. It seemed to be a part of Grant's plans to have the navy silence the rebel batteries, then land the infantry and storm the work. So to carry this into effect the gunboats Pittsburg, Lafayette, Mound City, Carondolet, Louisville, Tuscumbia and Benton, dropped down and went into action, and for four long hours engaged in a furious fight, with no profitable result on our side. Commodore Porter was present under fire, and directed the movements of the boats. Everything that skill and bravery could do was done, but the enemy's guns were too well entrenched to be affected by our fire.
...
The river makes a great bend to the east here, forming a peninsula on the Louisiana side, that was densely covered with forest and subject to inundations in high water time. The levee run straight across the neck of land and was used as a road-way. We marched over this to the landing below. An abandoned plantation furnished an excellent camping place for the 13th Corps, that came pouring in and spreading out over the spacious fields. Some of the first regiments--the 16th among them--as soon as they stacked arms went for the vacated buildings and board fences for boards to lie on that night.
---
Period map showing the route of Grant's army, including the 16th Ohio, from Perkins' Plantation to Hard Times Landing, Louisiana, on April 28, 1863: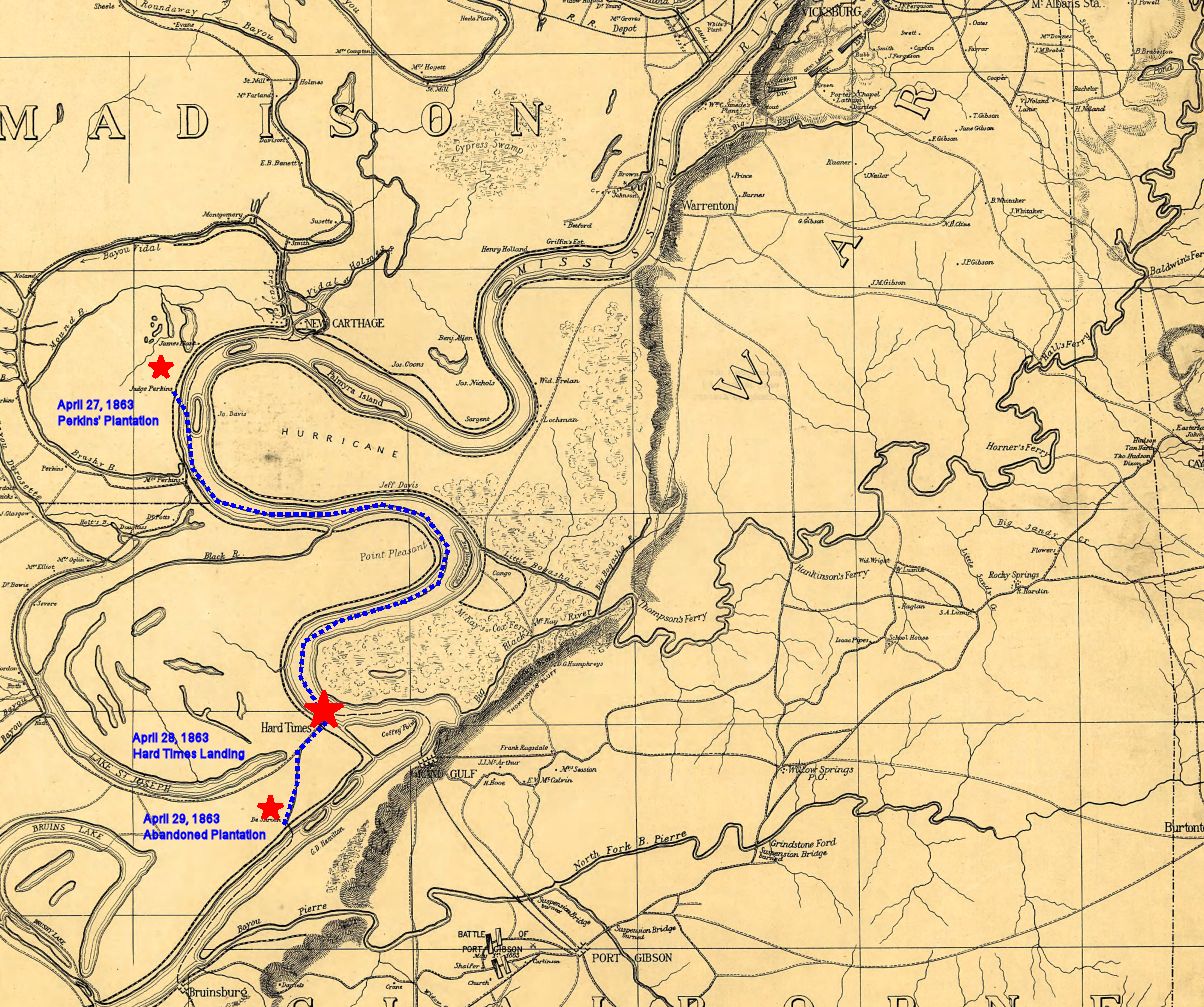 ---
Modern day map of the 16th Ohio's march from Perkins' Plantation to Hard Times Landing, Louisiana:
Purple
pin - Perkins' Plantation, from where the 16th Ohio and elements of Grant's force embarked on steamboats on April 28, 1863
Blue
pin - Hard Times Landing, Louisiana, where the 16th Ohio, Osterhaus' 9th Division and other elements of Grants force disembarked from their boats on April 29, 1863.
Yellow
pin - An abandoned plantation to where the troops marched and camped the night of April 29, 1863.