ARRIVAL AT THE YAZOO RIVER
Research has provided few specifics on the detailed locations and activities of General William T. Sherman's invasion flotilla on these days. The flotilla resumed its southerly float on the Mississippi River on the morning (assumed) of December 22. It then sailed four days, reaching the mouth of the Yazoo River, just north of Vicksburg, on Christmas Day.
One can read more detailed accounts of the strategy and upcoming battle at the Battle of Chickasaw Bayou page. Briefly, Grant and Sherman's plans were to send their large force up the Yazoo River, above Vicksburg, and attack from the north and along Chickasaw Bayou. This avoids the formidable gun batteries guarding the front of Vicksburg along the Mississippi. What Grant and Sherman didn't know, apparently, is how well the Walnut Hills or Chickasaw Bluffs above Vicksburg were defended and how difficult the terrain in front of those bluffs was to negotiate with a large army.
Private Robert Newt Gorsuch tells us that on...
December 22, he, and what was likely a small detachment from the flotilla, moved back up river some distance and men went ashore to cut wood for the boats. He then states they started forward at one o'clock.
December 24, they stopped on the Mississippi side of the river and took wood for all the boats from (the) cecesh. He states that they burned the fences. Gorsuch also mentions that their boat was fired into by the enemy.
Cpl. Theodore Wolbach writes...
On the 25th of December, the curtain begins to slowly rise on the events of a dark and bloody week's work. On that day we glide into the sluggish waters of the Yazoo. This name, in the language of one of the ancient Indian tribes, means 'River of Death.' How appropriately named for the ghastly program that fate had marked for the future on its miasmatic shores.
---
Modern day map of 16th Ohio locations from December 22 to 25, 1862 (positions approximated):
Red
Pin - Camp Oliver in eastern Memphis, where the 16th Ohio spent 23 days preparing for the Vicksburg campaign
Blue
Pin - Helena, Arkansas, where the 16th Ohio and the invasion fleet moored the morning of December 21, 1862
Green
Pin - Notional point where the 16th Ohio and the invasion fleet reached the night of December 21, 1862
Lavender
Pin - Milliken's Bend, Louisiana, where the flotilla reached on December 24, 1862
Yellow
Pin - Mouth of Yazoo River, where the flotilla reached on December 25, 1862, about 13 miles (by river) above Vicksburg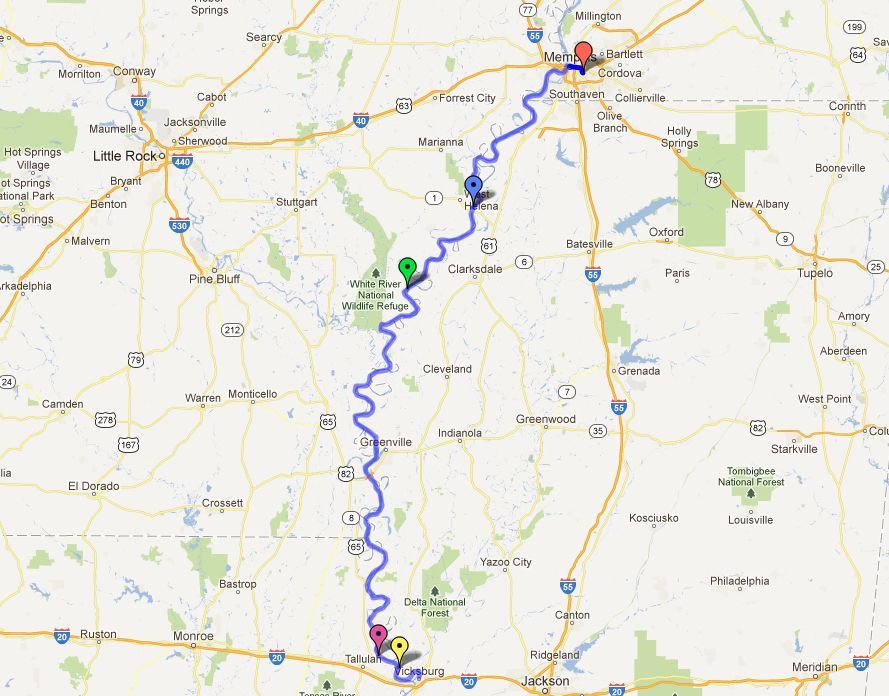 ---
Period map of Vicksburg, Mississippi, and surrounding area including the Yazoo River, Chickasaw Bayou and Walnut Hills