CAMP OLIVER, MEMPHIS, TENNESSEE
The 16th Ohio was now settled in Camp Oliver on the eastern side of Memphis, Tennessee. They would stay in this camp for 23 days. Only sketchy information exists on specific events on a day by day basis, however, Cpl. Theodore Wolbach provides a number of descriptions of Memphis and the life and events experienced by the troops during this time. These stories will be shared here on various days during this period. It is known that Company B performed picket duty today, that is, guarding the perimeter of the camp, installation or Memphis itself.
Cpl. Wolbach tells us:
We had only become fairly established in camp, when we were beset with plenty of camp peddlers. One of the articles sold by these people was a species of pastry called Washington pie. It contained but one crust with a soft, sweet filling closely resembling gingerbread. It was popular with the boys until in some manner it was discovered that the refuse bread carried away from camp by the slop-gatherers contributed to the make up of the famous pie.
---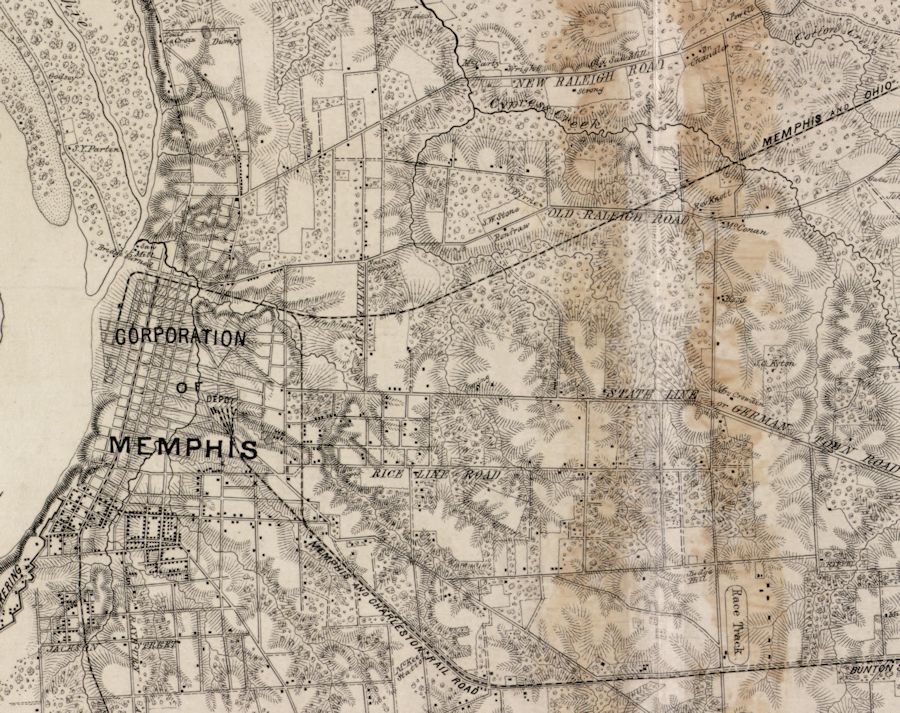 Excerpt from a Civil War era map of Memphis made for Gen. William T. Sherman. The racetrack can be seen in lower right which was the site of Camp Oliver; the 16th Ohio camped at the eastern edge of the property; it is assumed the road State Line is actually Poplar Street further toward the city
---
Modern day map of a portion of eastern Memphis, Tennessee, and the fairgrounds where Camp Oliver was located. The grounds were originally part of the Deaderick Plantation prior to 1850. They were purchased by the Memphis Jockey Club in 1851 for use as a racetrack. The land was used as a camp by the Confederates until Memphis was surrendered to the Union shortly after June 6, 1862 when it was then used as Camp Oliver.
Red
pushpin - Fairgrounds in Memphis, Tennessee