ARRIVAL AT MEMPHIS
On this day the flotilla carrying the 16th Ohio and the rest of DeCourcey's brigade finally reached their initial destination, Memphis, Tennessee. They arrived on the Mississippi River in front of Memphis at 10:00 in the evening and stayed on their anchored boats during night. Of this final leg of their long river journey, Cpl. Theodore Wolbach writes:
...Ft. Pillow, high upon the east bank and commanding a great bend of the river, is the net place of importance we see. Its history of the cold-blooded butchering of colored Federal prisoners by the rebel Gen. Forest's men is to come afterward. Ft. Randolph and then Memphis...
The locations of Ft. Pillow and Ft. Randolph are shown in the second map, below.
---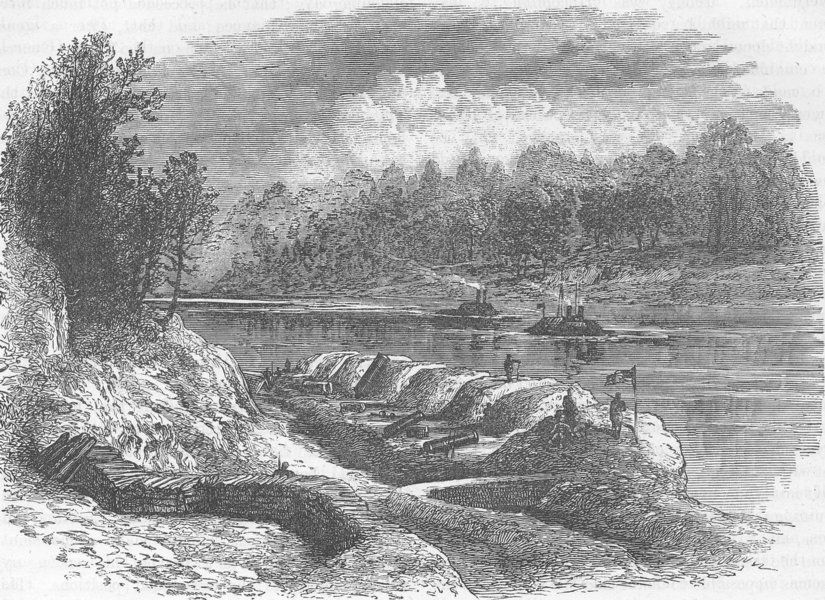 artist's sketch of Ft. Pillow, Tennessee, on the Mississippi River north of Memphis

artist's sketch of Ft. Randolph, Tennessee, on the Mississippi River north of Memphis
---
Wide and close view modern day maps of the 16th Ohio's journey on the Ohio River on November 25 (positions approximated):
Yellow pin - notional point where the flotilla reached on the night of November 22, 1862
Aqua pin - Cairo, Illinois
Purple pin - Columbus, Kentucky
Green pushpin - notional point where the flotilla reached on the night of November 24, 1862 (60 miles from Columbus, Kentucky)
Yellow pushpin - notional point where the flotilla reached on the night of November 25, 1862 (120 miles from Columbus, Kentucky, their last known position on date)
Red pushpin - Memphis, Tennessee
Purple pushpin - Ft. Pillow, Tennessee (second map)
Aqua pushpin - Ft. Randolph, Tennessee (second map)