A BRIEF STOP IN CAIRO THEN SOUTH ON THE MISSISSIPPI
On this day the flotilla carrying Col. John F. DeCourcey's troops arrived at Cairo, Illinois (still on the Ohio River) at 10:00am. After a four hour stop, the boats continued on, entering the Mississippi River and floating south to Columbus, Kentucky, arriving there in the evening. Cpl. Theodore Wolbach states:
At the town of Cairo, we, for the first time see the Mississippi river, along which we were destined to devote much time and hard service. On the great levee embankment, the St. Charles Hotel loomed up lofty and most conspicuous of all the buildings. It was the last that we saw of the place as we floated away miles to the southward.
At all the important points, as we moved along on our journey, we noticed the 'blue-coats' guarding one of the greatest military supply routes on the continent. The fortified bluffs at Columbus, Ky., presented their brown, cheerless front to us as we pass. On the opposite side, on the level bottom land, Grant, in his early work on this river, made a bold dash with some infantry on some camps of the enemy, and had it all his own way until Gen. Leonidas Polk, the rebel commander here, sent a force vastly superior in numbers across and compelled the Federals to get back up the river to their boats.
---
The riverfront at Cairo, Illinois, during Civil War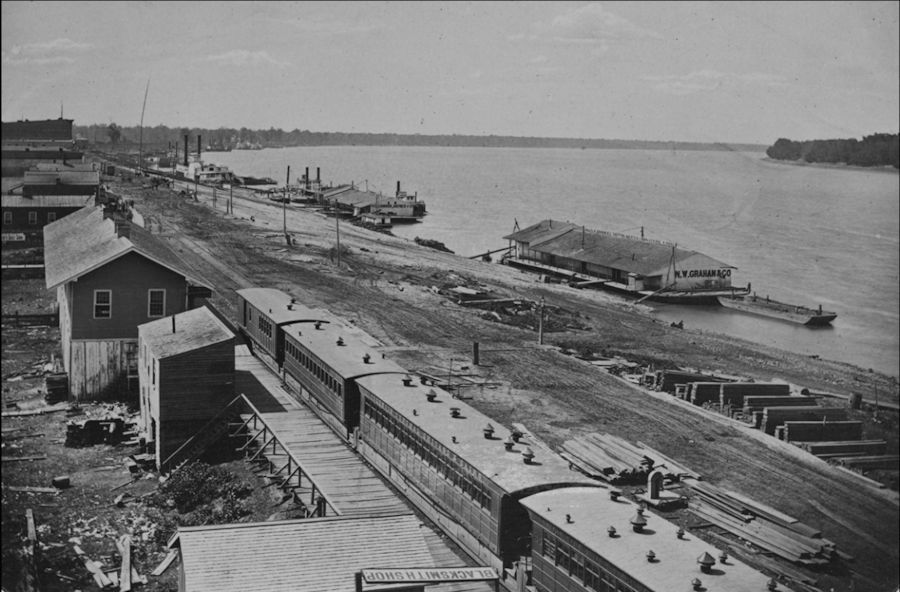 ---
The riverfront at Cairo, Illinois, during Civil War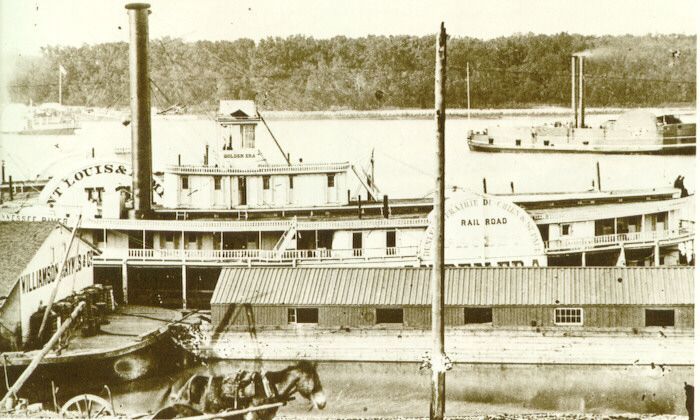 ---
Sketch of the St. Charles Hotel in Cairo (later Halliday Hotel) built in 1858 and mentioned by Cpl Wolbach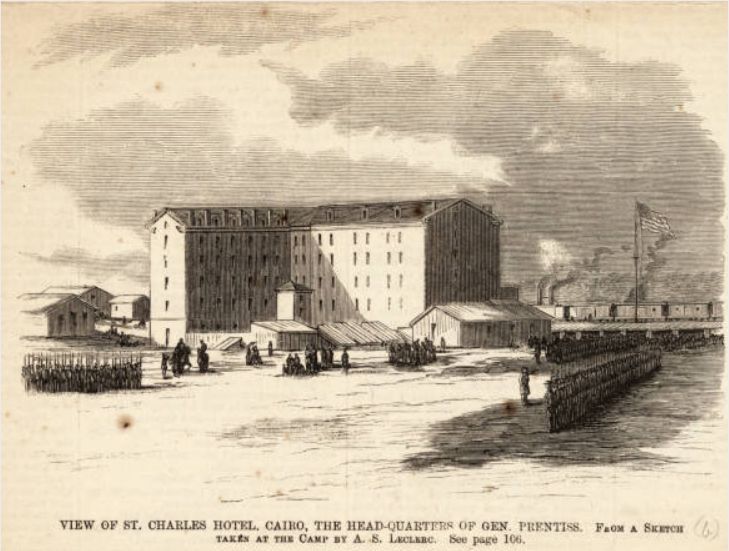 ---
Sketch of Columbus, Kentucky, and the bluffs just north of the town

---
Wide and close modern day maps of the 16th Ohio's journey on the Ohio River to Cairo, Ilinois and down the Mississippi River to Columbus, Kentucky (positions approximated):
Blue
pin - New Albany, Indiana (near Louisville, Kentucky)
Green
pin - notional point where the flotilla anchored for the night on November 19, 1862
Red
pin - Cannelton, Indiana, where flotilla docked to take on coal on what may have been the night of November 20, 1862
Lavender
pin - notional point where the flotilla reached on the night of November 21, 1862
Yellow
pin - notional point where the flotilla reached on the night of November 22, 1862
Aqua
pin - Cairo, Illinois
Purple
pin - Columbus, Kentucky