CAMP AT MOSS HOUSE, KENTUCKY - FOOLING THE CONFEDERATES
During this time, the regiment was camped in southeastern Kentucky near the Moss House, an abandoned cabin about two miles south of Cumberland Ford (now Pineville, Kentucky) at the junction of the state roads leading south to Cumberland Gap and to Lambden's farm to the southwest. The regiment was part of Col. DeCourcey's 26th brigade which was being staged by General George W. Morgan as part of the Union effort to take control over the critical Cumberland Gap passage. Morgan ordered DeCourcey, including the 16th Ohio, to make it appear they were building a fort near this spot in order to confuse Confederate General Kirby Smith.
Cpl. Theodore Wolbach, Company E, later writes of this time:
In the latter part of the month of May, the 16th and several other Regiments moved up and established camp at the Moss House and relieved the desolation of that place by throwing up breastworks, and the noisy routine of military life.
The paymaster visited us again here and gave us three months pay. A large number of the boys sent money home, though there was enough left to make business lively for the sutler. Trading watches and revolvers and gambling seemed to be the popular order of the day; chuck-a-luck boards with their crowds could be seen in the shade of almost any tree, and many a poor fellow stuck to it and kept betting until he was 'busted'. Near our camp a little mound of fresh earth aroused the curiosity of some of the boys who dug into it and soon abandoned it when they found it contained a corpse of a negro who evidently had been buried by the Confederates as they encamped here some time during the winter.
While cutting down trees on the mountain side, Burns, of Co. K, was crushed and almost killed by a falling tree. He got several severe fractures from which he recovered but was left a cripple for life.
Many scorpions were found on the hillside where our tents were pitched. These little creatures excited considerable interest with the boys who had never seen any before. The sting of the scorpion is said to be as poisonous as the bite of a rattlesnake. Enterprising scouts of the enemy on several occasions had lively collisions with our pickets in every instance without bloodshed.
As later described by Pvt. F. H. Mason, Company A of the 42nd Ohio (brigaded with the 16th Ohio):
DeCourcy's Brigade was sent forward to effect a mask at the Moss House, and as a ruse Morgan caused an earthwork to be constructed at that point.
---
Believed to be image of the ford at Cumberland Ford (now Pineville), Kentucky, where the 16th Ohio and many troops crossed and re-crossed throughout the Civil War.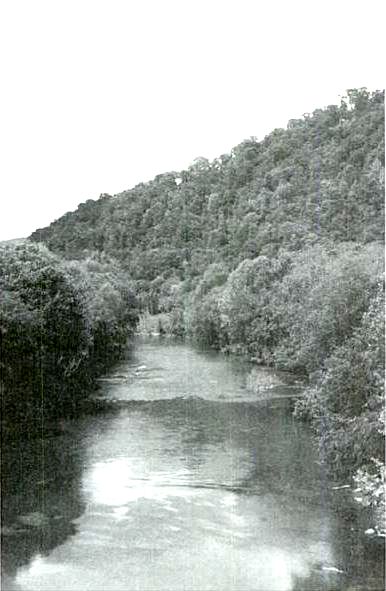 ---
View of period map showing important locations of the 16th Ohio and Morgan's Division as mentioned above:
1
- Cumberland Ford (now Pineville, Kentucky)
2
- believed to be location of the Rufus Moss farmhouse, where Col. DeCourcey built fortifications to fool Confederates in thinking Gen. Morgan's troops would stay around Cumberland Ford
3
- Lambden's farmhouse - where Morgan's division would pass through on route to Roger's and Big Creek Gaps in Tennessee as they encircled Cumberland Gap
4
- Cumberland Gap, the strategic passageway to eastern Tennessee, currently held by Rebels