Web Author's Notes:
Below is a transcription of the recorded proceedings of the 16th Ohio's thirty-fourth reunion at Wooster, Ohio. It was taken from an unidentified source, assumed to be an addendum to the original
Proceedings of Eleven Reunions Held By the 16th Regiment, O.V.I
, compiled by Enos Pierson, Secretary of 16th O.V.I. Reunion Association, in 1887. This document was provided by fellow 16th OVI descendant H. Arlan Heiser of Ohio.
Certain misspellings from the original document, believed to be accidental, were corrected, while others were transcribed as recorded.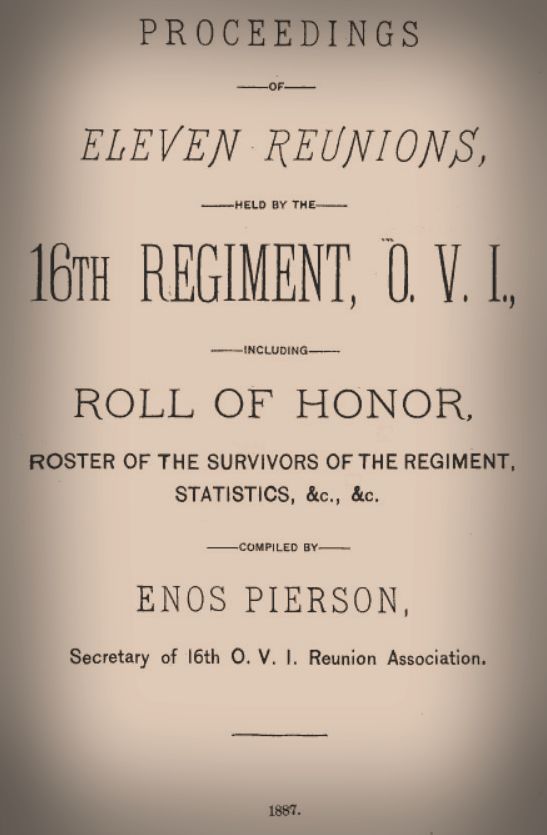 of the
held at
ENOS PIERSON, Secretary
WOOSTER, OHIO, Sept. 16th, 1909.
The survivors of the gallant old fighting regiment, the 16th Ohio Volunteer Infantry, held their annual reunion in Wooster Thursday afternoon and all day Friday. That the men who fought for the freedom of slaves and the union of the States love to meet each other and recount the stories of their hardships, their battles and triumphs, of the deeds in camp and on the march, is evidenced by the way in which the brave old defenders greet each other. That it will not be many years when the last veteran will have been passed to the bivouac of the dead is realized by the tottering footsteps and the number who are forced to use canes and crutches, suffering from wounds and diseases, the result of battle for country.
Those that came into the city Thursday enjoyed themselves by visiting with each other and renewing old friendships. Quite a large number of the veterans were accompanied by their wives and daughters, who are members of the Regimental Association. The first gathering was held Thursday night in Grand Army Hall when a social was held, and which proved a very pleasant affair. David C. Curry, of Wooster, was the presiding officer. Music was furnished by Mrs. D. W. Metzler and Miss Lura Cunningham. Addresses were made by Ohio Knox, of Council Bluffs, Ia.; Simon Chapman, of Westerville, O.; Theodore D. Wolbach, of Wadsworth, O. All did well and talked in a way that interested the comrades. The ladies then served ice cream, peaches, cake and coffee. ...