Web Author's Notes:
Below is a transcription of the recorded proceedings of the 16th Ohio's thirteenth reunion at Columbus, Ohio. It was taken from an unidentified source, assumed to be an addendum to the original
Proceedings of Eleven Reunions Held By the 16th Regiment, O.V.I
, compiled by Enos Pierson, Secretary of 16th O.V.I. Reunion Association, in 1887. This document was provided by fellow 16th OVI descendant H. Arlan Heiser of Ohio.
The location for this reunion was chosen to be in conjunction with the 22nd G. A. R. National Encampment, at Columbus, where 70,000 Union Army veterans gathered for a national reunion of Civil War soldiers. Making the event even grander, Ohio was also celebrating its 100th centennial during September and this coincided with the G.A.R.'s Grand Encampment festivities as well as the 16th Ohio's 13th regimental reunion.
Certain misspellings from the original document, believed to be accidental, were corrected, while others were transcribed as recorded.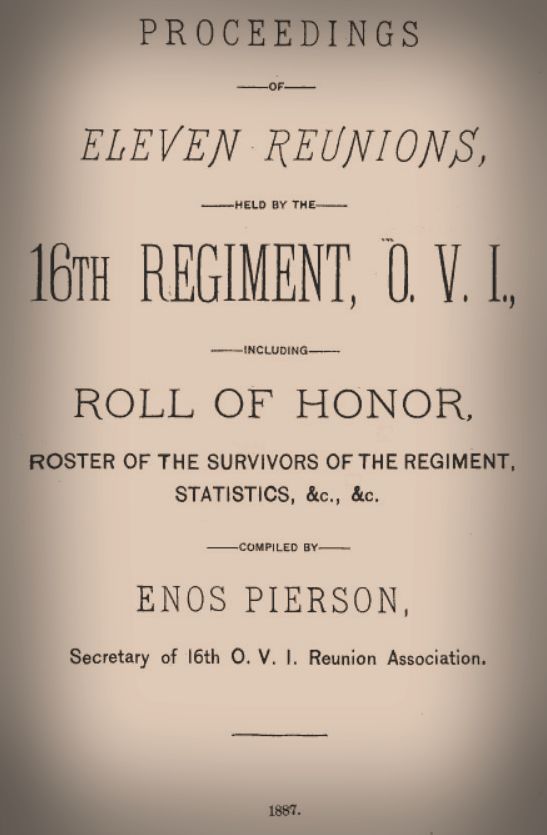 OF THE
HELD AT
The reunion Association of the 16th Reg't O. V. I. met in the Sullivant School Building, at 9 o'clock, A. M., but owing to the enjoyment of the Comrades at meeting each other again, it was 10 o'clock before the regular order of business could be taken up. This was certainly one of the most enjoyable meetings that the gallant old 16th Ohio has ever had. Quite a number were present that had never had the privilege of attending the reunions of the regiment before, and as these comrades who had not seen one another for nearly a quarter of a century, would meet, it would be first a grasp of the hand, then the arms would get around the necks of each other, while the tears of joy flowed freely. In several cases the old vets. could not refrain from kissing each other.
The tie of Comradship that was formed in the old war days has not diminished, but has been growing stronger each year, and none can understand or appreciate this feeling more than those who stood shoulder to shoulder during the dark and trying days of '61-'65.
As the time was fast passing, the President, Harry McClarran, had to break in on the enjoyment of the occasion, and in calling the association order, in substance made the following remarks: ...