Pittsburg Commercial, May 29, 1876

The third reunion of the Sixteenth O.V.I. will be held in Millersburg, on Thursday, August 10th. The reunion was set for the 6th, but as that day occurred on Sunday, it has been changed to the above date.
---
Coshocton Tribune, July 20, 1876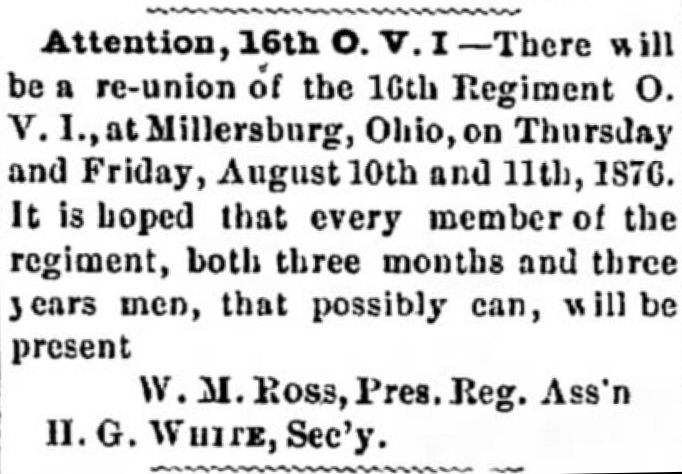 Attention, 16th O.V.I--There will be a re-union of the 16th Regiment, O. V. I., at Millersburg, Ohio, on Thursday and Friday, August 10th and 11th, 1876. It is hoped that every member of the regiment, both three months and three years men, that possibly can, will be present
W.M.ROSS,Pres.Reg. Ass'n
H. G. WHITE, Sec'y.
---
Cambridge Jeffersonian, July 27, 1876

There will be a reunion of the 16th Regiment O.V.I. at Millersburg, Ohio, August 10th and 11th, We believe the first company from Guernsey county went out in this regiment.