Referencing the first image, below, veteran soldiers of Company B, 16th OVI, pose for reunion photo, in September, 1913, on front porch of unknown home. Back of photo captioned Uncle Donald & Aunt Suzie in middle. No first name of Donald is found on the regimental roster, however, an Isaiah Donald was a member of Company B and married a Susan Linhart after the war. These are likely the Uncle Donald and Aunt Suzie written on the back of the photo, below. See the gravesite and obituary of Isaiah K. Donald.
Update 3/1/14: An image of Isaiah Donald has been found in the minutes of the Company B Reunion, 1907, and that image matches the man sitting next to the door. It can then be assumed the woman next to him is, indeed, his wife, Susan Suzie Linhart Donald. The federal census of 1910 indicates Isaiah and Susannah Donald lived on Union Street in Loudonville.
Note most of the men seem to be wearing their white reunion ribbons. This reunion was held 52 years after the formation of the 16th OVI three-year regiment.
See a high resolution (longer download) version of this image
Names of the various soldiers in the photo are not known but based on the records of the 38th Reunion, the following soldiers from Company B attended:
Captain R. W. Liggett, Lakeville, Ohio
Corp. B. F. Wilson, Holmesville, Ohio - possible - back row 3rd from left
Corp. M. F. Strock, Brookfield, Mo. - identified - sitting back row, fourth from left
Corp. Samuel Frizzell, Killbuck, Ohio
Private Joseph Christopher, Killbuck, Ohio
Private I. K. Donald, Loudonville, Ohio - identified - sitting closest to front door
Private Joseph Beagle, Crestline, Ohio
Private Nathan Young, Canton, Ohio
Private Thomas B. Linn, Indianapolis, Ohio
Private Henry Shire, Lakeville, Ohio
Private Henry Livingston, Marion, Ohio
We can assume the eight or nine men in the photograph are among those listed just above.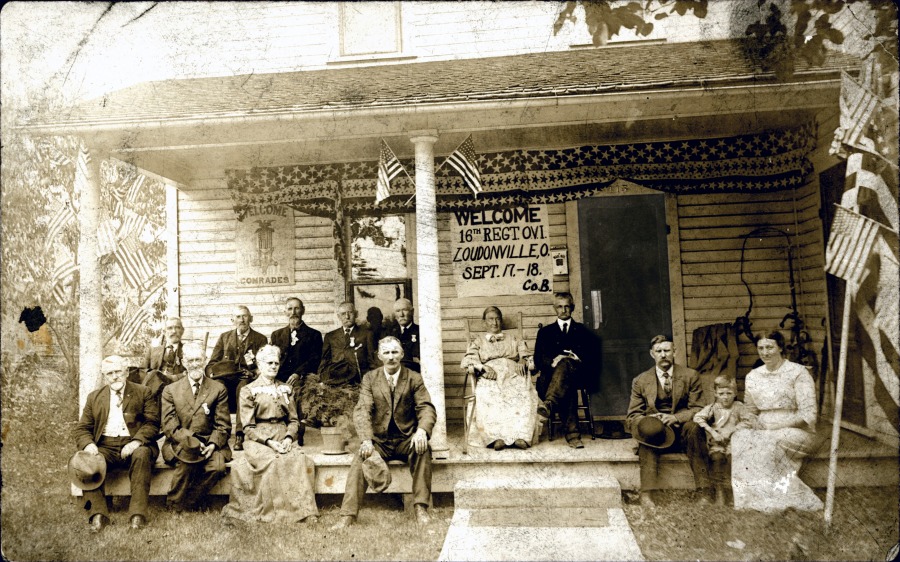 Another contributor, Patrick Drouhard, a descendant of 16th Ohio soldier Pvt. Peter Morend, Company E, found the photo, below, in a publication by the Mohican Historical Society of Loudonville. Mr. Drouhard knows this home to be directly across the street from the first photo and it is obvious many of the people shown are present in the first photo. This is likely another family that offered to house or otherwise entertain the veteran soldiers of Company B during the 38th Reunion of the 16th OVI and the group visited and posed for photos at both homes.
Note Isaiah and Susan Donald, present in the first photo at top of page, are present at the right, Suzie still near to her crutch.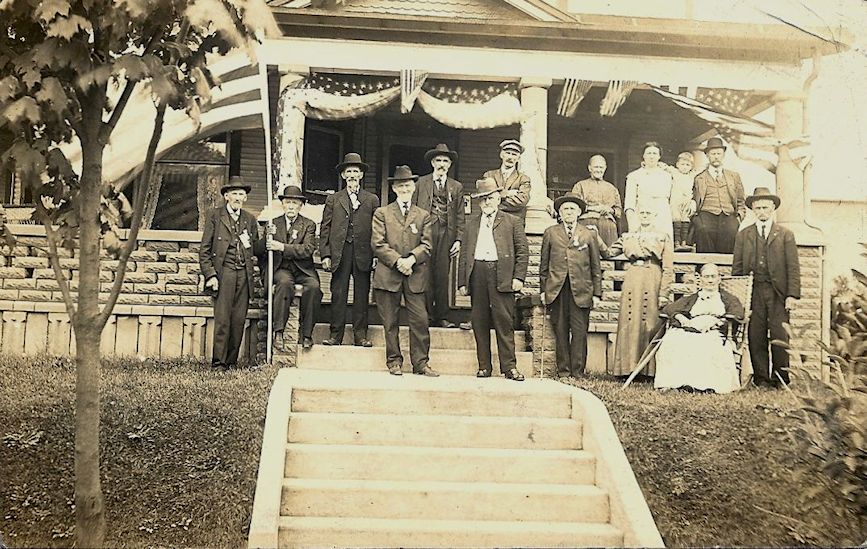 A modern day street view of the home, above.