Images from the
Twenty-fifth Regimental Reunion
16th Ohio Volunteer Infantry
Chicago, Illinois
August 29, 1900
Web Author's Notes:
Although no images have yet been found directly related to the 16th Ohio at their 1900 reunion, a number of images are shown, below, from the 34th Grand Encampment of the G. A. R. (Grand Army of the Republic). The G. A. R. held annual reunions in various cities from 1866 to 1949. All Union Army veterans were invited and the events attracted many thousands. The 16th Ohio planned their 25th regimental reunion to coincide with the Grand Encampment of 1900 held in Chicago, Illinois.
The 16th Ohio held their reunion ceremony on Wednesday, August 29, in a room at the county courthouse, however, it is likely that many of the soldiers arrived several days earlier and enjoyed the many National Encampment events scheduled for that time.
An invitation to the 34th National Encampment at Chicago.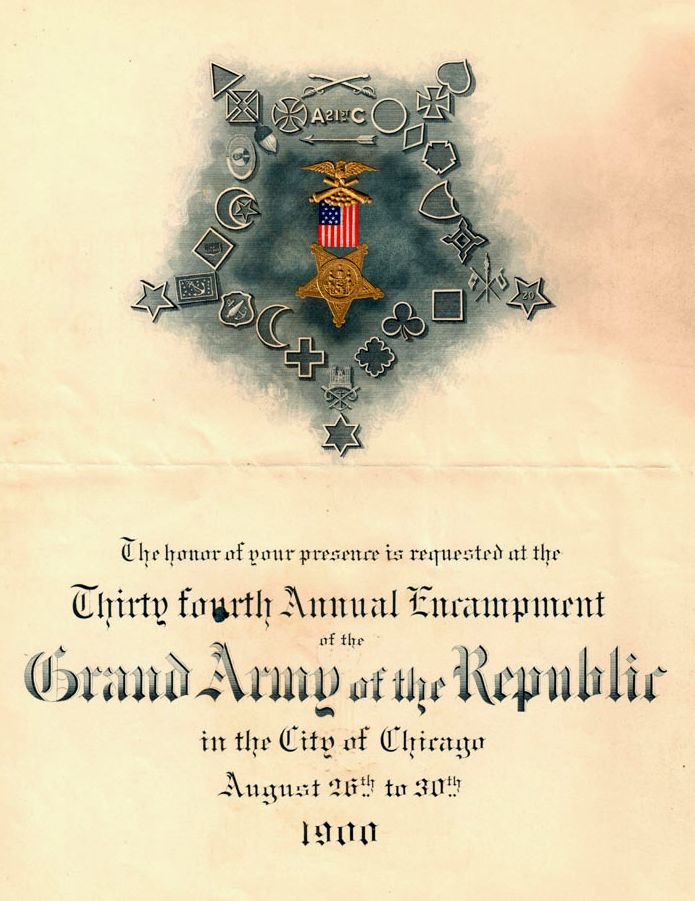 Souvenir reunion medals and ribbons from the 34th National Encampment in Chicago, Illinois, August, 1900.