Images from the
Sixteenth Regimental Reunion
16th Ohio Volunteer Infantry
Cumberland Gap, Kentucky
September 16-18, 1891
Web Author's Notes:
Below are images associated with the 16th annual regimental reunion held in and around Cumberland Gap, Tennessee and Kentucky, on September 16 through 18, 1891.
A ribbon provided to 16th Ohio veterans attending the 1891 Reunion at Cumberland Gap (Middlesborough, Kentucky, and vicinity).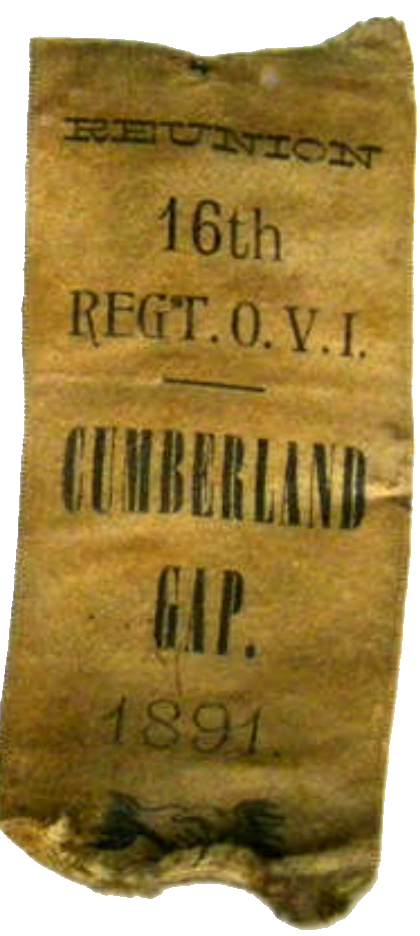 The sixteenth reunion transcript mentions that Theodore Wolbach, formerly a Corporal in Company E and rather prominent post-war photographer in Ohio, took many photographs during the reunion. This is one of only two found, so far, taken by him at the event. This photo is of four 16th OVI veterans at Cumberland Gap, apparently on the Harlan Road, exploring the area during the regiment's sixteenth reunion in September, 1891. The soldiers are, from left to right: Amos Hoff (Hough), Private Company K; Charles Dunbar, Private; James Anderson, Corporal and the photographer, Theodore Wolbach, Corporal, all of Company E.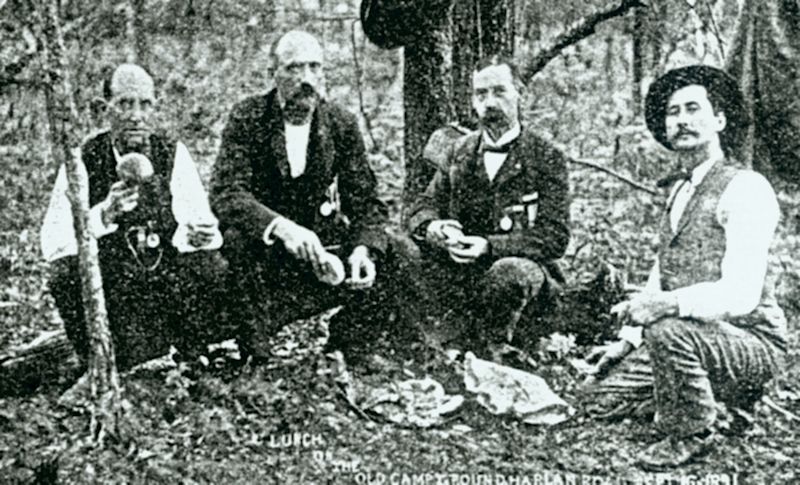 This is only other sixteenth reunion photo found. It was taken on the site of the Battle of Tazewell, Tennessee, about 15 miles south of Cumberland Gap. The 16th Ohio was among troops sent out from The Gap on August 6, 1862, to forage for food and bore the brunt of a surprise attack by a Confederate force approaching from the south. The man in the photo may actually be Wolbach (see Wolbach's attire in previous photo, above). The small white "X" shows the exact spot where Capt. Joseph Edgar, Company B, was shot through the head or neck and died during the battle. Edgar is also mentioned in the reunion transcript.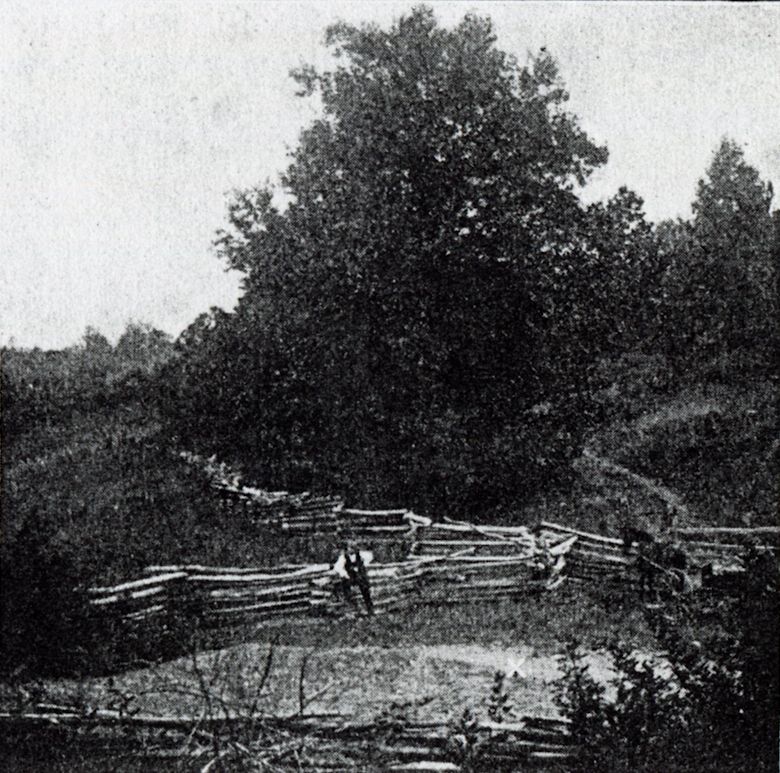 Map of Middlesborough, Kentucky, made just a few weeks before the 16th OVI veterans arrived and stayed for their 1891 reunion. Note the Middlesborough Hotel, identified as 2 on the map, is where the soldiers first assembled upon arrival on the evening of September 15th, 1891. Just a few years after the event the hotel went bankrupt, was closed and the building demoslished. Middlesborough was later renamed Middlesboro.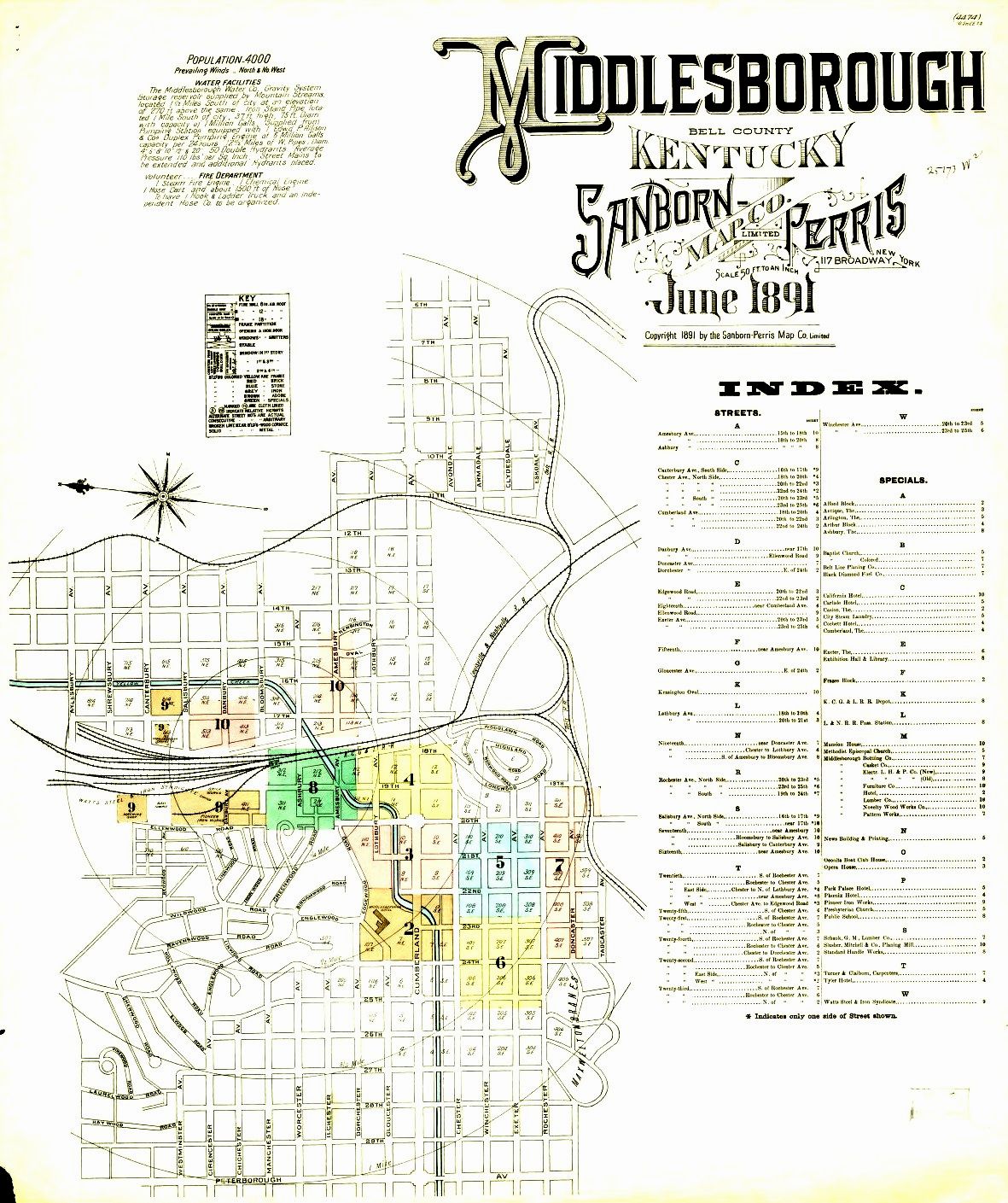 A postcard view of the Middlesborough Hotel, built around 1890, and where the 16th OVI veterans first assembled after arriving in Middlesborough, Kentucky, for their 1891 reunion.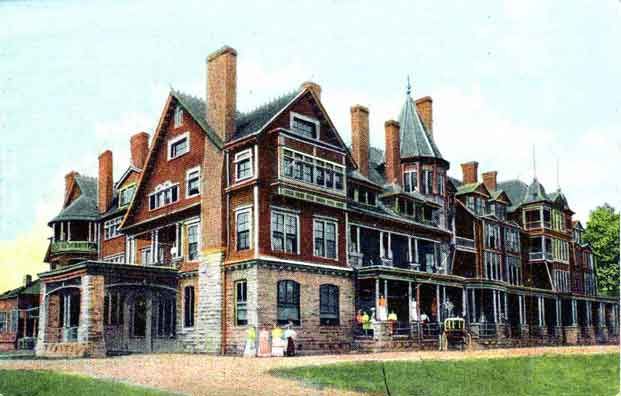 A view of the Four Seasons Hotel, built in 1892, at Harrogate, Tennessee, on the east side of Cumberland Gap, by Alexander Arthur, an entrepreneur who started the towns of Middlesborough, Kentucky, and Harrogate, Tennessee. 16th Ohio veterans traveled here on September 16, 1891, to view the hotel and, presumably, to visit the area of Cumberland Gap where they first entered on June 18, 1862, as an occupying Union force after the Confederates abandoned the Gap.