Letter (#42) from Private Thomas Buchanan Linn, Co. B, 16th OVI
to his mother Margaret Buchanan Tidball Linn
December 24, 1863
Decrow's Point, Texas
Web Author's Notes:
The following letter of Thomas B. Linn, a drummer in the 16th OVI, was transcribed by contributor John M. Pierson who obtained it from Mary Bavender. The letters were part of a collection of papers from Linn and included a detailed diary. Combined, the letters and diary entries give us an intimate look at the life of a soldier in the 16th OVI during the Civil War.
These letters were all written or received while Linn was a Private in Company B. He was later promoted, on July 1, 1864, to Principal Musician, as a drummer, and transferred to Field & Staff. He survived the war and mustered out with the regiment on October 31, 1864, near Columbus, Ohio.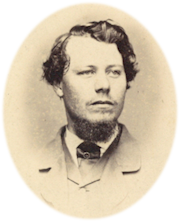 Letter addressed to Mother
Decrow's Point, Texas, Dec. 24, 1863
I was very, very glad to receive your letter of Nov. 19th which came to hand Tuesday Eve. I was longing to hear from home again. Mails are so few and far between that I like to have a letter from home every time one comes in and when it don't come I am disappointed. But if I don't write myself I must not expect letters and I have not written home for three weeks, then to Father. I have no excuse to offer. Paper and envelopes are very scarce and as for stamps they cannot be got for love or money. I was run down to my last stamp - had but bare one left, when I heard a suttler had come ashore with stamped envelopes. Tom immediately broke for him and succeeded in getting a dollars worth - twenty envelopes - he sold them at five cents apiece. I had great difficulty in getting paper but at last succeeded in buying eighteen sheets for a quarter. This was considered a capital bargain for it is a very scarce article at fifty cents per quire. I wish you would send me some postage stamps - I will be out before they will reach me - it takes so long for them to come.
The weather is very pleasant for December - more like Indian summer than winter. This is the day before Christmas and as Fenner, my bed fellow now, says "we are saving up crackers for Christmas" and tomorrow we will doubtless feast on fried crackers and Texas beef if we can get the grease to fry them with. Would like to be a home next week to spend the holidays. I hope these will be the last I will spend as a soldier. We call ourselves nine months men now, but we do not know just when our time is out. Some say middle of August, some in September and others the 2nd of October.
I do not feel like writing more today and the mail is called for, so will close and write again.