Letter (#27) from Private Thomas Buchanan Linn, Co. B, 16th OVI
to his brother Brownhill Linn
October 19, 1863
Vermillionville, Louisiana
Web Author's Notes:
The following letter of Thomas B. Linn, a drummer in the 16th OVI, was transcribed by contributor John M. Pierson who obtained it from Mary Bavender. The letters were part of a collection of papers from Linn and included a detailed diary. Combined, the letters and diary entries give us an intimate look at the life of a soldier in the 16th OVI during the Civil War.
These letters were all written or received while Linn was a Private in Company B. He was later promoted, on July 1, 1864, to Principal Musician, as a drummer, and transferred to Field & Staff. He survived the war and mustered out with the regiment on October 31, 1864, near Columbus, Ohio.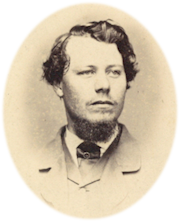 Letter addressed to Brother Brownhill
Vermillionville, La., Oct. 19, 1863
I received your very welcome letter of Sept. 26th of yesterday and although I just written you and sealed the letter I will write a few more lines tear open the envelope and send this in your letter. Your letter gave me a great deal of news and consequently is highly prized by me. I have not heard a single word from any of Sheely's folks since last spring although I have written to both Virgil and Homer and twice to Maria since I had a letter from them. I hardly know what to think of their silence. I was slightly acquainted with Mr. Hayes of Benton - did not know any of the rest of his family. My acquaintance did not go very far up that way was more down in the McCullough settlement. Many more knew me around there than I knew. I will be very anxious to hear from you again write as soon as you get this you will no doubt be settled for the winter by that time. I hope you will get in a good place and good wages. I wish Mr. McCullough would hire you for a year. Mr. Martin's brother-in-law made you a pretty good offer. $11.25 a month is not such bad wages taking the whole year round. Where is Charley Greenwood going if he leaves McCullough's? I though he had gone to war. We hear today that Rosecrans has been whipped -- bad news for us for every battle we lose prolongs the war just that much longer. Hope he has not been badly whipped.
I am very anxious to hear how the election has gone. I wish to know how many butter-nuts and traitors we have in Ohio. Give my love to all and write soon.