Letter (#5) from Private Thomas Buchanan Linn, Co. B, 16th OVI
to his mother Margaret Buchanan Tidball Linn
July 31, 1863
Vicksburg, Mississippi
Web Author's Notes:
The following letter of Thomas B. Linn, a drummer in the 16th OVI, was transcribed by contributor John M. Pierson who obtained it from Mary Bavender. The letters were part of a collection of papers from Linn and included a detailed diary. Combined, the letters and diary entries give us an intimate look at the life of a soldier in the 16th OVI during the Civil War.
These letters were all written or received while Linn was a Private in Company B. He was later promoted, on July 1, 1864, to Principal Musician, as a drummer, and transferred to Field & Staff. He survived the war and mustered out with the regiment on October 31, 1864, near Columbus, Ohio.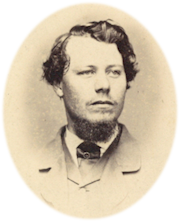 Letter addressed to Mother
Vicksburg, Miss., July 31, 1863
Newt Gorsuch starts home on furlough in a few minutes have time to write but a few words. If the order is not countermanded I will get a furlough in a short time probably though not until Newt comes back again. He is furloughed for thirty days time to commence from Cairo. I bought a black satin vest from John G. Boling for $3.00 which I will send with Newt for fear I do not get to go. Take care of it for me. I got it because it was so cheap and I will need vests before long I hope. John G. captured it coming round in rear of Vicksburg. I wrote to Uncle Frey to send me a gold pen -- if he has not sent it by mail, give it to Newt to bring to me. My name is on the roll of merit for furlough but it may not be my turn for some time, I was home while we were at Camp Tiffen. Furloughs are only give to those who always did their duty and never played off. There are some 25 or 26 of our company on the list of merit. No time to write more -- well and hope soon to see you all.
We look to be paid for two more months in a day or two. Don't be disappointed if I do not get to go home, only three can go at once. I send a lot of pieces for my scrap book.