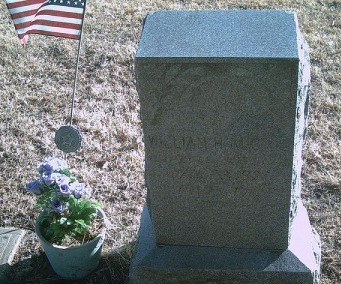 Lt. William H. Ruckle, Company K (90-day)
Company D (3-year)
Born January 23, 1839 - Died March 1, 1916
Buried at Belle Vista Cemetery, El Dorado, Kansas
photo courtesy of weturner2002 through http://skyways.lib.ks.us/genweb/civilwar/civil_war_veterans.htm
DEATH CALLED OLD VETERAN
COMRADE W. H. RUCKLE PASSES AWAY AFTER A LONG ILLNESS
HE WAS 77 YEARS OF AGE
Served as Second and First Lieutenant
In 16th Regiment of Ohio Volunteers.
Comrade W. H. Ruckle, 77, died at his home 410 North Settler street at midnight Wednesday, March 1, after an illness dating back several years with Brights disease and complications. He has been ailing for about two years, but his recent illness dates back only two weeks.
Funeral services will be held from the G. A. R. hall Friday afternoon at 2 o'clock conducted by Rev. W. E. Bates. Interment will be in Belle Vista cemetery.
Comrade Ruckle was born in Muskingum county, Ohio, January 23, 1839. On November 27, 1865, he was married to Miss Mary Shutts, the ceremony being performed in Muskingum county. They moved to Gridley, McLean county, Ohio, January 6, 1866, and resided there until March 10, 1884, when they moved to El Dorado, which has since been their home. Mr. Ruckle conducted a restaurant here for years, retiring about three years ago.
Mr. Ruckle was a veteran of the Civil war. He first enlisted for three months, in company I, 16th Ohio volunteer infantry, April 18, 1861, and was discharged August 19, 1861, and on September 13, 1861, he enlisted for three years. On November 15, 1862, he was promoted to second lieutenant.
On May 20, 1863, he was wounded in the left arm and shoulder. On May 20, 1863, he was promoted, to first lieutenant and held that position until his final discharge October 31, 1864. He served in many notable engagements.
Mr. Ruckle is survived by his wife, six children, Mrs. D. T. Mossman, Caldwell; Mrs. M. E. Longstreth, Fairview township; Mrs. Tom Mossman, El Dorado; Charles Ruckle, Yates Center; George Ruckle, Arkansas City; and Mrs. A. D. Belt, El Dorado; three brothers, J. E. Ruckle, Chas. Ruckle, and Marsh Ruckle, Ohio; and three sisters, Mrs. Ella Hoos, Chicago; Mrs. Samantha Walwrath, and Mrs. Armintha Snyder of Ohio. Ten grandchildren and three great grandchildren also survive.
On November 27, this year, Mr. and Mrs. Ruckle celebrated their 50th wedding anniversary. At that time all of the children and children's children were present. It was the last family gathering.
The death of Mr. Ruckle leaves a sadness on many hearts in El Dorado and Butler county. He was one of the pioneer types of citizens, which are gradually passing to the other shore, leaving their impress of earlier days after them. Mr. Ruckle was a good father, always; and a better friend was never known.
He went about his business in every day life quietly and without show, but he never failed to make friends, who as they came to know him better, addressed him by the familiar title, "Dad." While Mr. Ruckle never identified himself him any church, he was a good man, morally. Scores of friends mourn his passing.
The sympathy of friends is extended to the wife, who has journeyed with him these many years, and to the children, in their hour of sorrow.
El Dorado Republican, Thursday, Mar. 2, 1916, Pg. 1
Thanks to John A. Jackson, KSGenWeb Civil War Coordinator
Pvt. Charles Wallick, Company B
Born July 8, 1843 - Died July 2, 1926, Victor, Iowa
Buried at Victor Memorial Cemetery, Victor, Iowa
courtesy of and with permission from Donna Bogs, FindAGrave.com
Pvt. William St. Clair, Company D
Born 1840 - Died February 8, 1931, Dresden, Ohio
Buried at Dresden Cemetery, Dresden, Ohio
courtesy of and with permission from Tom Hale, FindAGrave.com