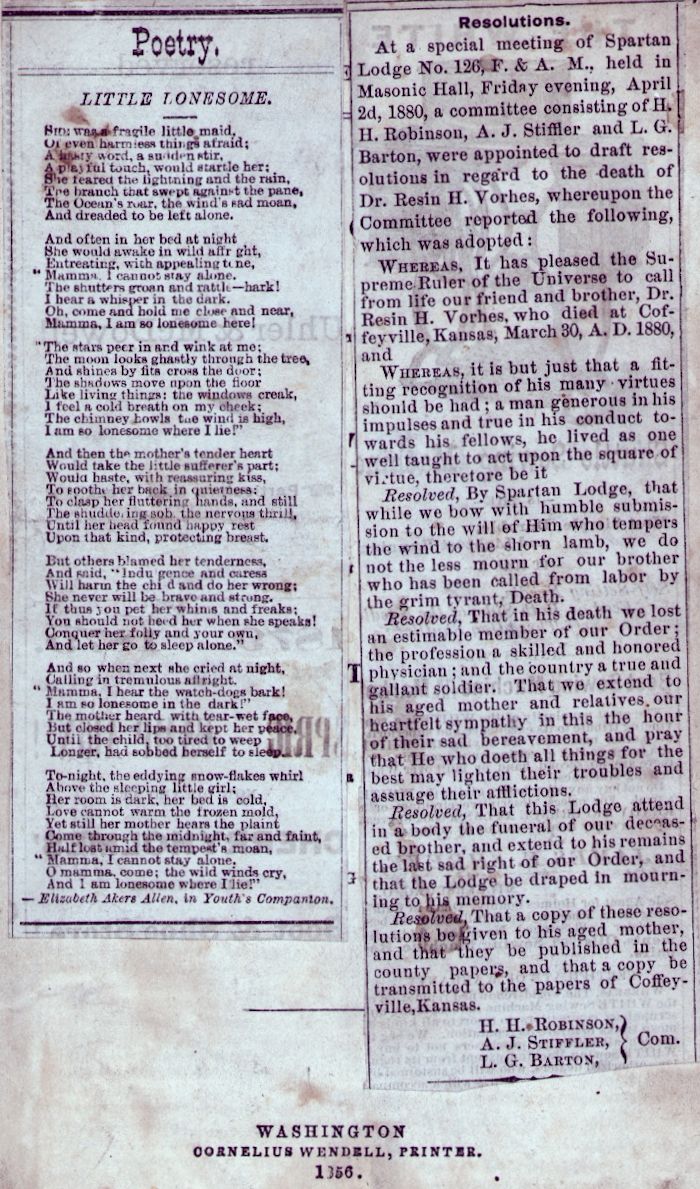 Resolutions.
At a special meeting of Spartan Lodge No. 126, F. & A. M., held in Masonic Hall, Friday evening, April 2d, 1880, a committee consisting of H. H. Robinson, A. J. Stiffler and L. G. Barton, were appointed to draft resolutions in regard to the death of Dr. Resin H. Vorhes, whereupon the Committee reported the following, which was adopted:
WHEREAS, It has pleased the Supreme Ruler of the Universe to call from life our friend and brother, Dr. Resin H. Vorhes, who died at Coffeyville, Kansas, March 30, A. D. 1880, and
WHEREAS, it is but just that a fitting recognition of his many virtues should be had; a man generous in his impulses and true in his conduct towards his fellows, he lived as one well taught to act upon the square of virtue, therefore be it
Resolved, By Spartan Lodge, that while we bow with humble submission to the will of Him who tempers the wind to the shorn lamb, we do not the less mourn for our brother who has been called from labor by the grim tyrant, Death.
Resolved, That in his death we lost an estimable member of our Order; the profession a skilled an honored physician; and the country a true and gallant soldier. That we extend to his aged mother and relatives our heartfelt sympathy in this the hour of their sad bereavement, and pray that He who doeth all things for the best may lighten their troubles and assuage their afflictions.
Resolved, That this Lodge attend in a body the funeral of our deceased brother, and extend to this remains the last sad right of our Order, and that the Lodge be draped in mourning to his memory.
Resolved, That a copy of these resolutions be given to his aged mother, and that they be published in the county papers, and that a copy be transmitted to the papers of Coffeyville, Kansas.
Com.
H. H. ROBINSON,
A. J. STIFFLER,
L. G. BARTON