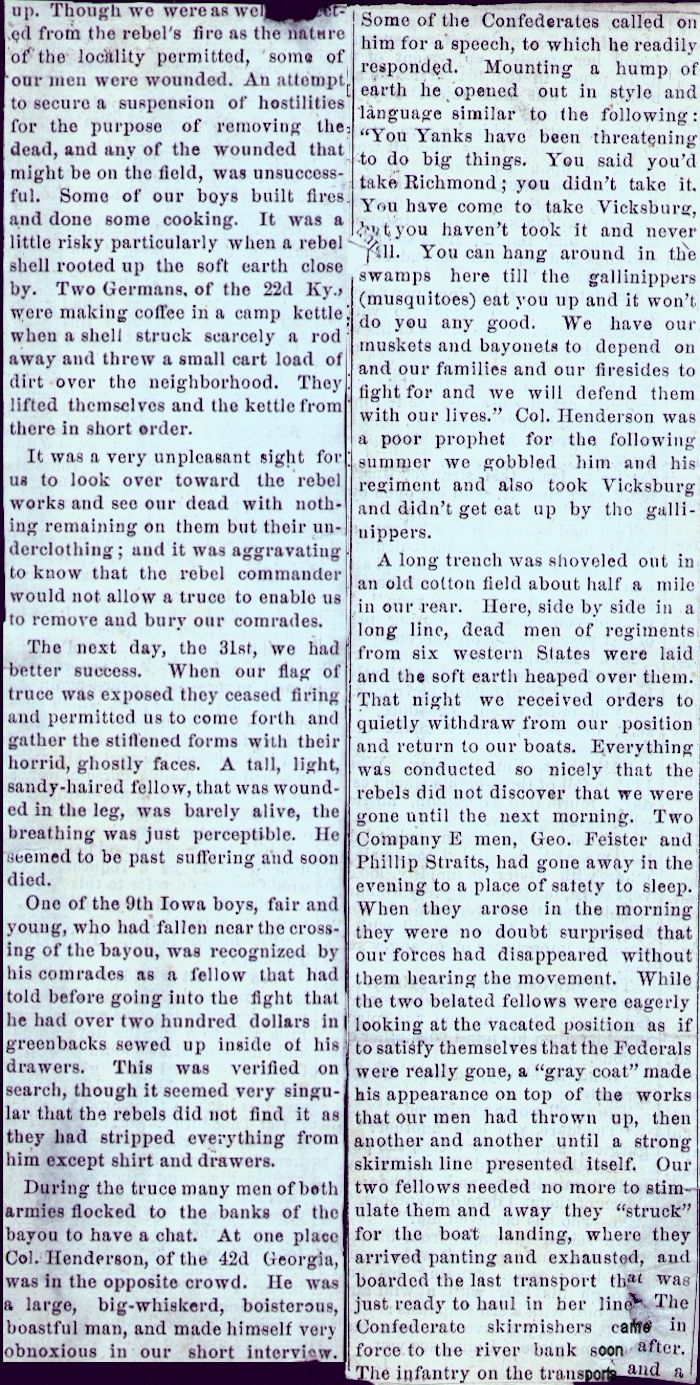 up. Though we were as well protected from the rebel's fire as the nature of the locality permitted, some of our men were wounded. An attempt to secure a suspension of hostilities for the purpose of removing the dead, and any of the wounded that might be on the field, was unsuccessful. Some of our boys built fires and done some cooking. It was a little risky particularly when a rebel shell rooted up the soft earth close by. Two Germans, of the 22d Ky., were making coffee in a camp kettle when a shell struck scarcely a road away and threw a small cart load of dirt over the neighborhood. They lifted themselves and the kettle from there in short order.
It was a very unpleasant sight for us to look over toward the rebel works and see our dead with nothing remaining on them but their underclothing; and it was aggravating to know that the rebel commander would not allow a truce to enable us to remove and bury our comrades.
The next day, the 31st, we had better success. When our flag of truce was exposed they ceased firing and permitted to come forth and gather the stiffened forms with their horrid, ghostly faces. A tall, light, sandy-haired fellow, that was wounded in the leg, was barely alive, the breathing was just perceptible. He seemed to be past suffering and soon died.
One of the 9th Iowa boys, fair and young, who had fallen near the crossing of the bayou, was recognized by his comrades as a fellow that had been told going into the fight that he had over two hundred dollars in greenbacks sewed up inside of his drawers. This was verified on search, though it seemed very singular that the rebels did not find it as they had stripped everything from him except shirt and drawers.
During the truce many men of both armies flocked to the banks of the bayou to have a chat. At one place Col. Henderson, of the 42d Georgia, was in the opposite crowd. He was a large, big-whiskerd [sic], boisterous, boastful man, and made himself very obnoxious in our short interview.
Some of the Confederates called on him for a speech, to which he readily responded. Mounting a hump of earth he opened out in style and language similar to the following: You Yanks have been threatening to do big things. You said you'd take Richmond; you didn't take it. You have come to take Vicksburg, but you haven't took it and never will. You can hang around in the swamps here till the gallinippers (musquitoes) [sic] eat you up and it won't do you any good. We have our muskets and bayonets to depend on and our families and our firesides to fight for and we will defend them with our lives. Col. Henderson was a poor prophet for the following summer we gobbled him and his regiment and also took Vicksburg and didn't get eat up by the gallinippers.
A long trench was shoveled out in an old cotton field about half a mile in our rear. Here, side by side in a long line, dead men of regiments from six western States were laid and the soft earth heaped over them. That night we received orders to quietly withdraw from our position and return to our boats. Everything was conducted so nicely that the rebels did not discover that we were gone until the next morning. Two Company E men, Geo. Feister and Phillip Straits, had gone away in the evening to a place of safety to sleep. When they awoke in the morning they were no doubt surprised that our forces had disappeared without them hearing the movement. While the two belated fellows were eagerly looking at the vacated position as if to satisfy themselves that the Federals were really gone, a gray coat made his appearance on top of the works that our men had thrown up, then another and another until a strong skirmish line presented itself. Our two fellows needed no more to stimulate them and away they struck for the boat landing, where they arrived panting and exhausted, and boarded the last transport that was just ready to haul in her line. The Confederate skirmishers came in force to the river bank soon after. The infantry on the transports and a