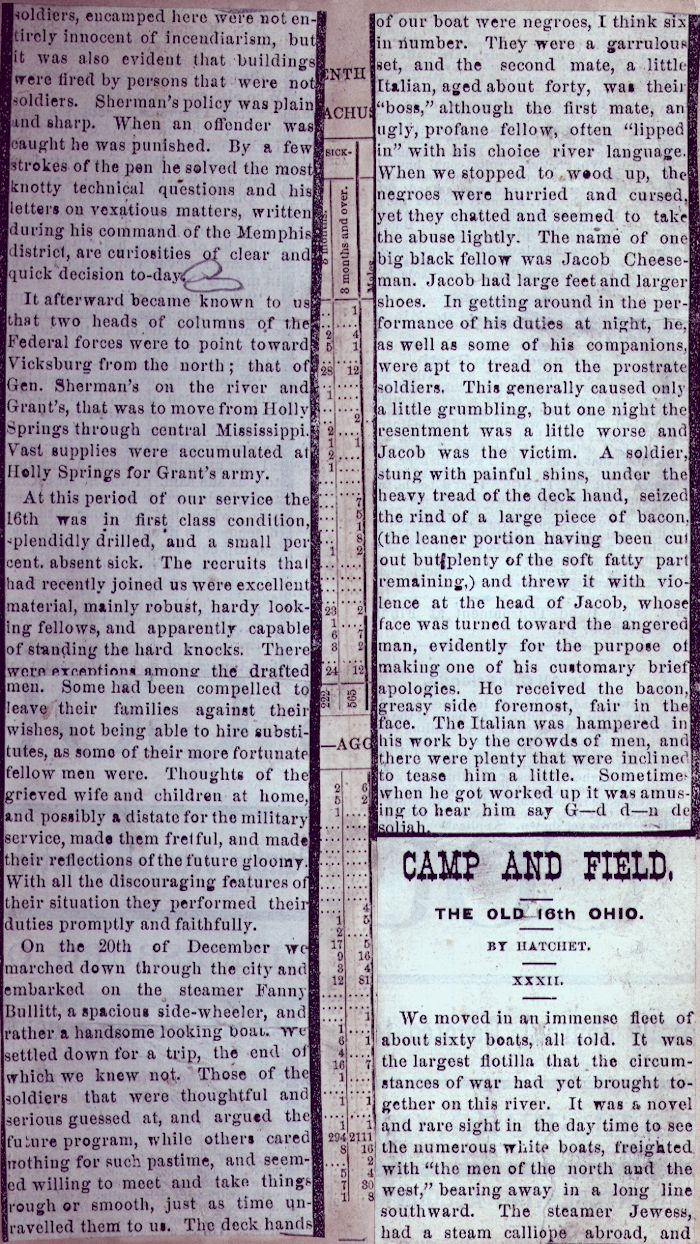 soldiers, encamped here were not entirely innocent of incendiarism, but it was also evident that buildings were fired by persons that were not soldiers. Sherman's policy was plain and sharp. When an offender was caught he was punished. By a few strokes of the pen he solved the most knotty technical questions and his letters on vexatious matters, written during his command of the Memphis district, are curiosities of clear and quick decision to-day.
If afterward became known to us that two heads of columns of the Federal forces were to point toward Vicksburg from the north; that of Gen. Sherman's on the river and Grant's, that was to move from Holly Springs through central Mississippi. Vast supplies were accumulated at Holly Springs for Grant's army.
At this period of our service the 16th was in first class condition, splendidly drilled, and a small percent. absent sick. The recruits that had recently joined us were excellent material, mainly robust, hardy looking fellows, and apparently capable of standing the hard knocks. There were exceptions among the drafted men. Some had been compelled to leave their families against their wishes, not being able to hire substitutes, as some of their more fortunate fellow men were. Thoughts of the grieved wife and children at home, and possibly a distaste for the military service, made them fretful, and made their reflections of the future gloomy. With all the discouraging features of their situation they performed their duties promptly and faithfully.
On the 20th of December we marched down through the city and embarked on the steamer Fanny Bullitt, a spacious side-wheeler, and rather a handsome looking boat. We settled down for a trip, the end of which we knew not. Those of the soldiers that were thoughtful and serious guessed at, and argued the future program, while others cared nothing for such pastime, and seemed willing to meet and take things rough or smooth, just as time unraveled them to us. The deck hands
of our boat were negroes, I think six in number. They were a garrulous set, and the second mate, a little Italian, aged about forty, was their boss, although the first mate, an ugly, profane fellow, often lipped in with his choice river language. When we stopped to wood up, the negroes were hurried and cursed, yet they chatted and seemed to take the abuse lightly. The name of one big black fellow was Jacob Cheeseman. Jacob had large feet and larger shoes. In getting around in the performance of his duties at night, he, as well as some of his companions, were apt to tread on the prostrate soldiers. This generally caused only a little grumbling, but one night the resentment was a little worse and Jacob was the victim. A soldier, stung with painful shins, under the heavy tread of the deck hand, seized the rind of a large piece of bacon, (the leaner portion having been cut out but plenty of the soft fatty part remaining,) and threw it with violence at the head of Jacob, whose face was turned toward the angered man, evidently for the purpose of making one of his customary brief apologies. He received the bacon, greasy side foremost, fair in the face. The Italian was hampered in his work by the crowds of men, and there were plenty that were inclined to tease him a little. Sometimes when he got worked up it was amusing to hear him say G--d d--n de soljah.
---
We moved in an immense fleet of about sixty boats, all told. It was the largest flotilla that the circumstances of war had yet brought together on this river. It was a novel and rare sight in the day time to see the numerous white boats, freighted with the men of the north and the west, bearing away in a long line southward. The steamer Jewess, had a steam calliope abroad [sic], and