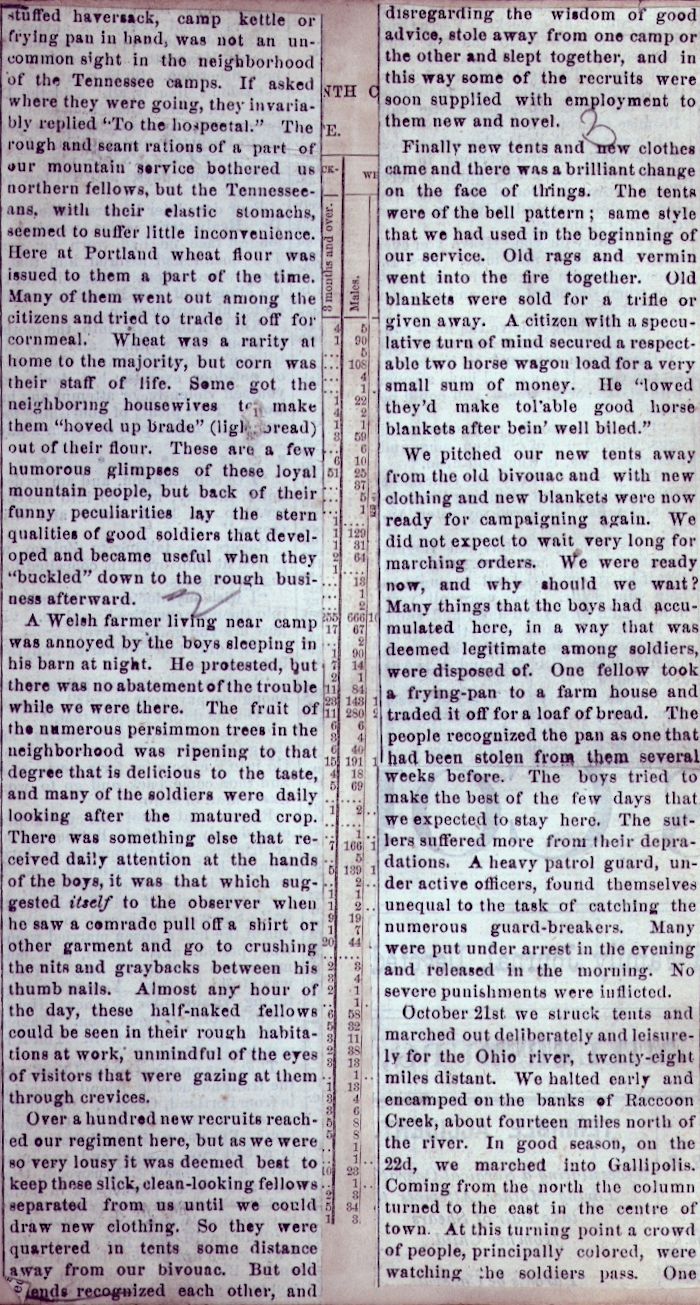 stuffed haversack, camp kettle or frying pan in hand, was not an uncommon sight in the neighborhood of the Tennessee camps. If asked where they were going, they invariably replied To the hospeetal. The rough and scant rations of a part of our mountain service bothered us northern fellows, but the Tennesseeans, with their elastic stomachs, seemed to suffer little inconvenience. Here at Portland wheat flour was issued to them a part of the time. Many of them went out among citizens and tried to trade it off for cornmeal. Wheat was a rarity at home to the majority, but corn was their staff of life. Some got the neighboring housewives to make them hoved up brade (light bread) out of their flour. These are a few humorous glimpses of these loyal mountain people, but back of their funny peculiarities lay the stern qualities of good soldiers that developed and became useful when they buckled down to the rough business afterward.
A Welsh farmer living near camp was annoyed by the boys sleeping in his barn at night. He protested, but there was no abatement of the trouble while we were there. The fruit of the numerous persimmon trees in the neighborhood was ripening to that degree that is delicious to the taste, and many of the soldiers were daily looking after the matured crop. There was something else that received daily attention at the hands of the boys, it was that which suggested itself to the observer when he saw a comrade pull off a shirt or other garment and go to crushing the nits and graybacks between his thumb nails. Alost any hour of the day, these half-naked fellows could be seen in their rough habitations at work, unmindful of the eyes of visitors that were gazing at them through crevices.
Over a hundred new recruits reached our regiment here, but as we were so very lousy it was deemed best to keep these slick, clean-looking fellows separated from us until we could draw new clothing. So they were quartered in tents some distance away from our bivouac. But old friends recognized each other, and
disregarding the wisdom of good advice, stole away from one camp or the other and slept together, and in this way some of the recruits were soon supplied with employment to them new and novel.
Finally new tents and new clothes came and there was a brilliant change on the face of things. The tents were of the bell pattern; same style that we had used in the beginning of our service. Old rags and vermin went into the fire together. Old blankets were sold for a trifle or given away. A citizen with a speculative turn of mind secured a respectable two horse wagon load for a very small sum of money. He lowed they'd make tol'able good horse blankets after bein' well biled.
We pitched our new tents away from the old bivouac and with new clothing and new blankets were now ready for campaigning again. We did not expect to wait very long for marching orders. We were ready now, and why should we wait? Many things that the boys had accumulated here, in a way that was deemed legitimate among soldiers, were disposed of. One fellow took a fryin-pan to a farm house and traded it off for a loaf of bread. The people recognized the pan as one that had been stolen from them several weeks before. The boys tried to make the best of the few days that we expected to stay here. The sutlers suffered more from their depradations. A heavy patrol guard, under active officers, found themselves unequal to the task of catching the numerous guard-breakers. Many were put under arrest in the evening and released in the morning. No severe punishments were inflicted.
October 21st we struck tents and marched out deliberately and leisurely for the Ohio river, twenty-eight miles distant. We halted early and encamped on the banks of Raccoon Creek about fourteen miles north of the river. In good season, on the 22d, we marched into Gallipolis. Coming from the north the column turned to the east in the centre of town. At this turning point a crowd of people, principally colored, were watching the soldiers pass. One