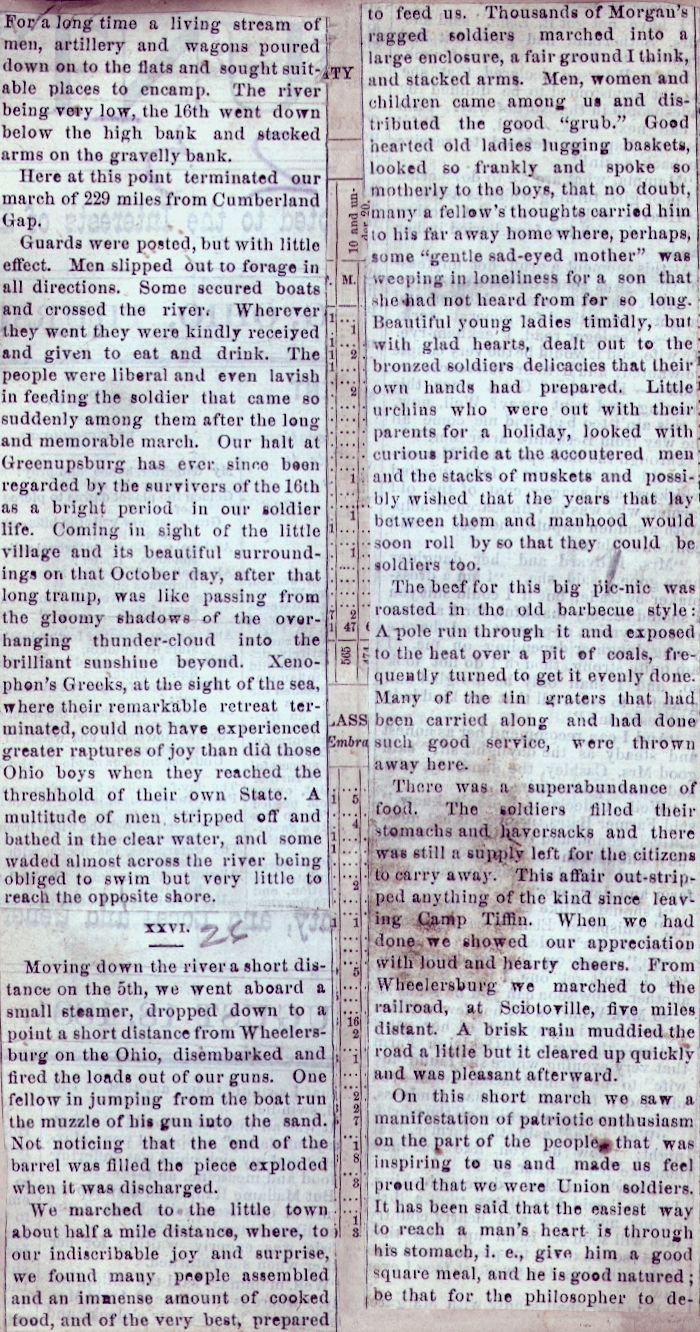 For a long time a living stream of men, artillery and wagons poured down on to the flats and sought suitable places to encamp. The river being very low, the 16th went down below the high bank and stacked arms on the gravelly bank.
Here at this point terminated our march of 229 miles from Cumberland Gap.
Guards were posted, but with little effect. Men slipped out to forage in all directions. Some secured boats and crossed the river. Wherever they went they were kindly received and given to eat and drink. The people were liberal and even lavish in feeding the soldier that came so suddenly among them after the long and memorable march. Our halt at Greenupsburg has ever since been regarded by the survivors of the 16th as a bright period in our soldier life. Coming in sight of the little village and its beautiful surroundings on that October day, after that long tramp, was like passing from the gloomy shadows of the overhanging thunder-cloud into the brilliant sunshine beyond. Xenophon's Greeks, at the sight of the sea, where their remarkable retreat terminated, could not have experienced greater raptures of joy than did those Ohio boys when they reached the threshhold of their own State. A multitude of men stripped off and bathed in the clear water, and some waded almost across the river being obliged to swim but very little to reach the opposite shore.
---
Moving down the river a short distance on the 5th, we went aboard a small steamer, dropped down to a point a short distance from Wheelersburg on the Ohio, disembarked and fired the loads out of our guns. One fellow in jumping from the boat run the muzzle of his gun into the sand. Not noticing that the end of the barrel was filled the piece exploded when it was discharged.
We marched to the little town about half a mile distance, where, to our indiscribable [sic] joy and surprise, we found many people assembled and an immense amount of cooked food, and of the very best, prepared
to feed us. Thousands of Morgan's ragged soldiers marched into a large enclosure, a fair ground I think, and stacked arms. Men, women and children came among us and distributed the good grub. Good hearted old ladies lugging baskets, looked so frankly and spoke so motherly to the boys, that no doubt, many a fellow's thoughts carried him to his far away home where, perhaps, some gentle sad-eyed mother was weeping in loneliness for a son that she had not heard from for so long. Beautiful young ladies timidly, but with glad hearts, dealt out to the bronzed soldiers delicacies that their own hands had prepared. Little urchins who were out with their parents for a holiday, looked with curious pride at the accoutered men and the stacks of muskets and possibly wished that the years that lay between them and manhood would soon roll by so that they could be soldiers too.
The beef for this big pic-nic was roasted in the old barbecue style: A pole run through it and exposed to the heat over a pit of coals, frequently turned to get it evenly done. Many of the tin graters that had been carried along and had done such good service, were thrown away here.
There was a superabundance of food. The soldiers filled their stomachs and haversacks and there was still a supply left for the citizens to carry away. This affair out-stripped anything of the kind since leaving Camp Tifflin. When we had done we showed our appreciation with loud and hearty cheers. From Wheelersburg we marched to the railroad, at Sciotoville, five miles distant. A brisk rain muddied the road a little but it cleared up quickly and was pleasant afterward.
On this short march we saw a manifestation of patriotic enthusiasm on the part of the people that was inspiring to us and made us proud that we were Union soldiers.It has been said that the easiest way to reach a man's heart is through his stomach, i.e., give him a good square meal, and he is good natured; be that for the philosopher to de-