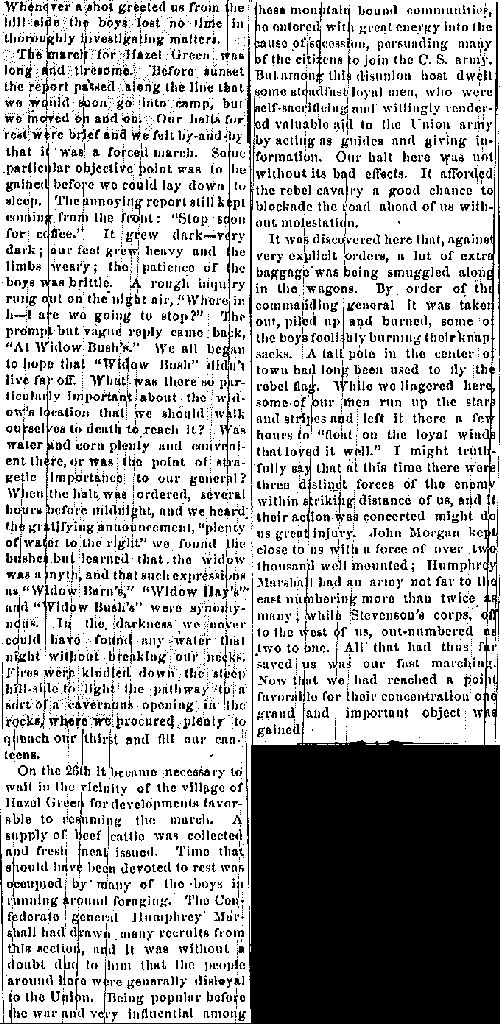 Whenever a shot greeted us from the hillside the boys lost no time thoroughly investigating matters.
The march for Hazel Green was long and tiresome. Before sunset the report passed along the line that we would soon go into camp, but we moved on and on. Our halts for rest were brief and we felt by-an-by that it was a forced march. Some particular objective point was to be gained before we could lay down to sleep. The annoying report still kept coming from the front: Stop soon for coffee. It grew dark--very dark; our feet grew heavy and the limbs weary; the patience of the boys was brittle. A rough inquiry rang out on the night air, Where in h--l are we going to stop? The prompt but vague reply came back, At Widow Bush's. We all began to hope that Widow Bush didn't live far off. What was there so particularly important about the widow's location that we should walk ourselves to death to reach it? Was water and corn plenty and convenient there, or was the point of strategic importance to our general? When the halt was ordered, several hours before midnight, and we heard the gratifying announcement, plenty of water to the right we found the bushes but learned that the widow was a myth, and that such expressions as Widow Barn's, Widow Day's and Widow Bush's were synonymous. In the darkness we never could have found any water that night without breaking our necks. Fires were kindled down the steep hillside to light the pathway to a sort of cavernous opening in the rocks where we procured plenty to quench our thirst and fill our canteens.
On the 26th it became necessary to wait in the vicinity of the village of Hazel Green for development favorable to resuming the march. A supply of beef cattle was collected and fresh meat issued. Time that should have been devoted to rest was occupied by many of the boys in running around foraging. The Confederate general Humphrey Marshall had drawn many recruits from this section, and it was without a doubt due to him that the people around here were generally disloyal to the Union. Being popular before the war and very influential among
these mountain bound communities, he entered with great energy into the cause of secession, persuading many of the citizens to join the C. S. army. But among this disunion host dwell some steadfast loyal men, who were self-sacrificing and willingly rendered valuable aid to the Union army by acting as guides and giving information. Our halt here was not without its bad effects. It afforded the rebel cavalry a good chance to blockade the road ahead of us without molestation.
It was discovered here that, against very explicit orders, a lot of extra baggage was being smuggled along in the wagons. By order of the commanding general it was taken out, piled up and burned, some of the boys foolishly burning their knapsacks. A tall pole in the center of town had long been used to fly the rebel flag. While we lingered here, some of our men run up the stars and stripes and left it there a few hours to float on the loyal winds that loved it well. I might truthfully say that at this time there were three distinct forces of the enemy within striking distance of us, and if their action was concerted might do us great injury. John Morgan kept close to us with a force of over two thousand well mounted; Humphrey Marshall had an army not far to the east numbering more than twice as many, while Stevenson's corps, off to the west of us, out-numbered us two to one. All that had thus far saved us was our fast marching. Now that we had reached a point favorable for their concentration one grand and important object was gained.