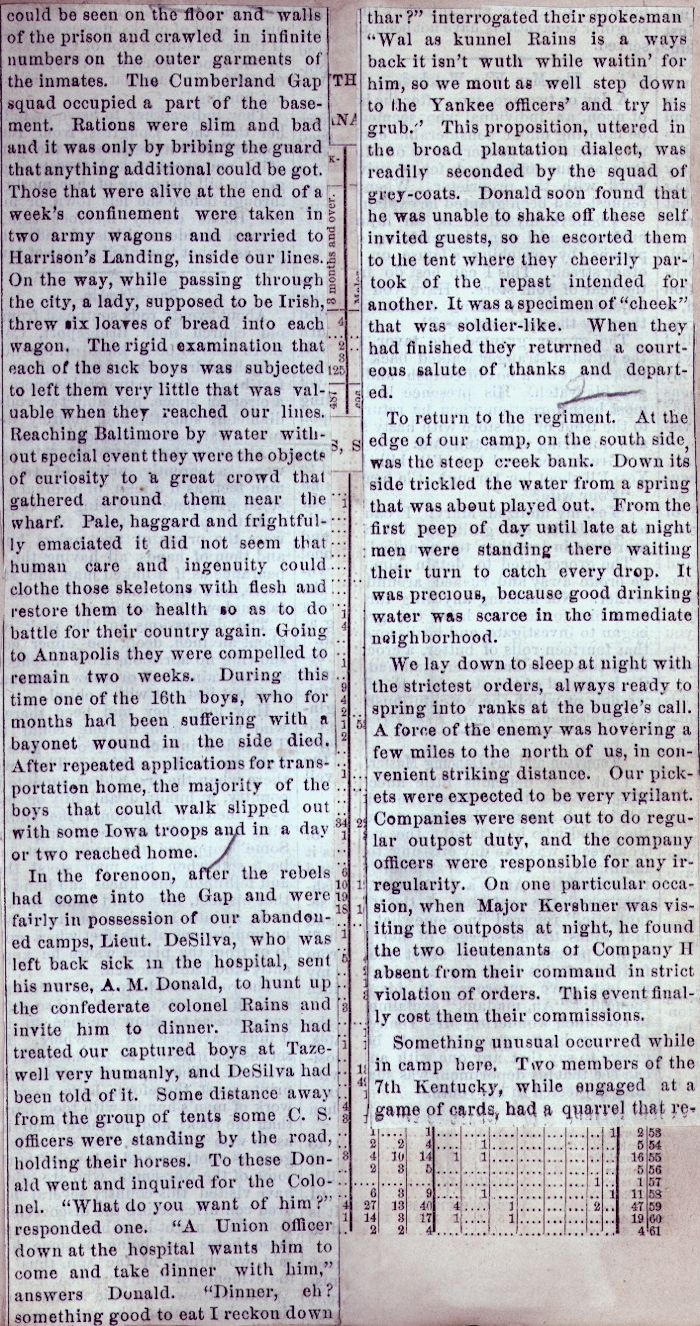 could be seen on the floor and walls of the prison and crawled in infinite numbers on the outer garments of the inmates. The Cumberland Gap squad occupied a part of the basement. Rations were slim and bad and it was only by bribing the guard that anything additional could be got. Those that were alive at the end of a week's confinement were taken in two army wagons and carried to Harrison's Landing, inside our lines. On the way, while passing through the city, a lady, supposed to be Irish, threw six loaves of bread into each wagon. The rigid examination that each of the sick boys was subjected to left them very little that was valuable when they reached our lines. Reaching Baltimore by water without special event they were the objects of curiosity to a great crowd that gathered around them near the wharf. Pale, haggard and frightfully emaciated it did not seem that human care and ingenuity could clothe those skeletons with flesh and restore them to health so as to do battle for their country again. Going to Annapolis they were compelled to remain two weeks. During this time one of the 16th boys, who for months had been suffering with a bayonet wound in the side died. After repeated applications for transportation home, the majority of the boys that could walk slipped out with some Iowa troops and in a day or two reached home.
In the forenoon, after the rebels had come into the Gap and were fairly in possession of our abandoned camps, Lieut. DeSilva, who was left back sick in the hospital, sent his nurse, A.M. Donald, to hunt up the confederate colonel Rains and invite him to dinner. Rains had treated our captured boys at Tazewell very humanely, and DeSilva had been told of it. Some distance away from the group of tents some C. S. officers were standing by the road, holding their horses. To these Donald went and inquired for the Colonel. What do you want of him? responded one. A Union officer down at the hospital wants him to come and take dinner with him, answers Donald. Dinner, eh? something good to eat I reckon down
thar? interrogated their spokesman. Wal as kunnel Rains is a ways back it isn't wuth while waitin' for him, so we mout as well step down to the Yankee officers' and try his grub. Donald found that he was unable to shake off these self invited guests, so he escorted them to the tent where they cheerily partook of the repast intended for another. It was a specimen of cheek that was soldier-like. When they had finished they returned a courteous salute of thanks and departed.
To return to the regiment. At the side of our camp, on the south side, was the steep creek bank. Down its side trickled the water from a spring that was about played out. From the first peep of the day until late at night men were standing there waiting their turn to catch every drop. It was precious, because good drinking water was scarce in the immediate neighborhood.
We lay down to sleep at night with the strictest orders, always ready to spring into ranks at the bugle's call. A force of the enemy was hovering a few miles to the north of us, in convenient striking distance. Our pickets were expected to be very vigilant. Companies were sent out to do regular outpost duty, and the company officers were responsible for any irregularity. On one particular occasion, when Major Kershner was visiting the outposts at night, he found the two lieutenants of Company H absent from their command in strict violation of orders. This event finally cost them their commissions.
Something unusual occurred while in camp here. Two members of the 7th Kentucky, while engaged at a game of cards, had a quarrel that re-