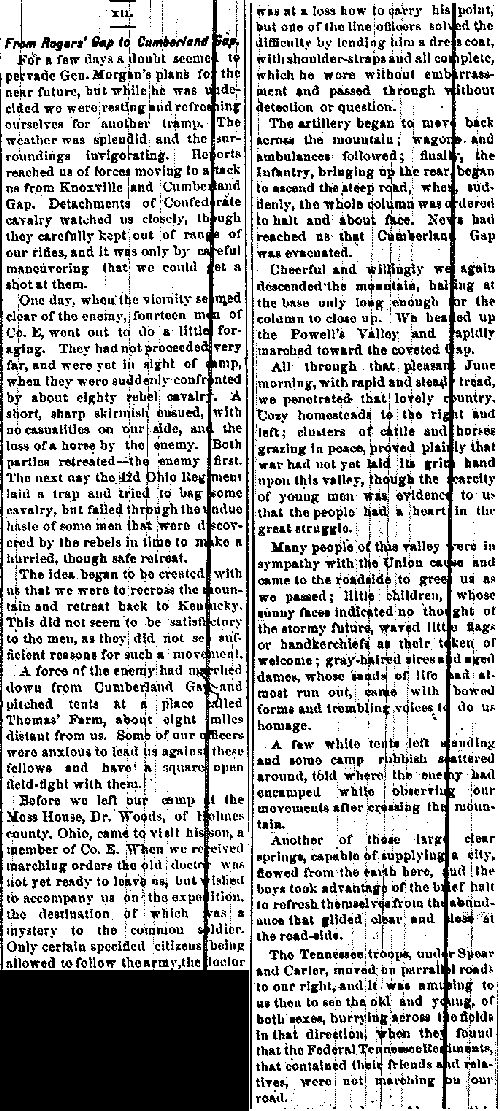 From Rogers' Gap to Cumberland Gap
For a few days a doubt seemed to pervade Gen. Morgan's plans for the near future, but while he was undecided we were resting and refreshing ourselves for another camp. The weather was splendid and the surroundings invigorating. Reports reached us of forces moving to attack us from Knoxville and Cumberland Gap. Detachments of Confederate cavalry watched us closely, though they carefully kept out of range of our rifles and it was only by careful maneuvering that we could get a shot at them.
One day, when the vicinity seemed clear of the enemy, fourteen men of Co. E, went out to do a little foraging. They had not proceeded very far, and were yet in sight of camp, when they were suddenly confronted by about eighty rebel cavalry. A short, sharp skirmish ensued, with no casualties on our side, and the loss of a horse by the enemy. Both parties retreated--the enemy first. The next day the 42d Ohio Regiment laid a trap and tried to bag some cavalry, but failed through the undue haste of some men that were discovered by the rebels in time to make a hurried, though safe retreat.
The idea began to be created with us that we were to recross [sic] the mountain and retreat back to Kentucky. This did not seem to be satisfactory to the men, as they did not see sufficient reasons for such a movement.
A force of the enemy had marched down from Cumberland Gap and pitched tents at a place called Thomas' Farm, about eight miles distant from us. Some of our officers were anxious to lead us against these fellows and have a square open field fight with them.
Before we left our camp at the Moss House, Dr. Woods, of Holmes county, Ohio, came to visit his son, a member of Co. E. When we received marching orders the old doctor was not yet ready to leave us, but wished to accompany us on the expedition, the destination of which was a mystery to the common soldier. Only certain specified citizens being allowed to follow the army, the doctor
was at a loss how to carry his point, but one of the line officers solved the difficulty by lending him a dress coat, with shoulder-straps and all complete, which he wore without embarrassment and passed through without detection or question.
The artillery began to move back across the mountain; wagons and ambulances followed; finally, the Infantry, bringing up the rear, began to ascend the steep road, when, suddenly, the whole column was ordered to halt and about face. News had reached us that Cumberland Gap was evacuated.
Cheerful and willingly we again descended the mountains, halting at the base only long enough for the column to close up. We headed up the Powell's Valley and rapidly marched toward the coveted Gap.
All through that pleasant June morning, with rapid and steady tread, we penetrated that lovely country. Cozy homesteads to the right and left; clusters of cattle and horses grazing in peace, provided plainly that war had not yet laid its grim hand upon this valley, though the scarcity of young men was evidence to us that the people had a heart in the great struggle.
Many people of this valley were in sympathy with the Union cause and came to the roadside to greet us as we passed; little children, whose sunny faces indicated no thought of the stormy future waved little flags or handkerchiefs as their token of welcome; gray-haired sires and aged dames, whose sands of life had almost run out, came with bowed forms and trembling voices to do us homage.
A few tents left standing and some camp rubbish scattered around, told where the enemy had encamped while observing our movements after crossing the mountain.
Another of these large, clear springs, capable of supplying a city, flowed from the earth here, and the boys took advantage of the brief halt to refresh themselves from the abundance that glided clear and close at the road-side.
The Tennessee troops, under Spear and Carter, moved on parallel roads to our right, and it was amusing to us then to see the old and young, of both sexes, hurrying across the fields in that direction, when they found that the Federal Tennessee Regiments, that contained their friends and relatives, were not marching on our road.