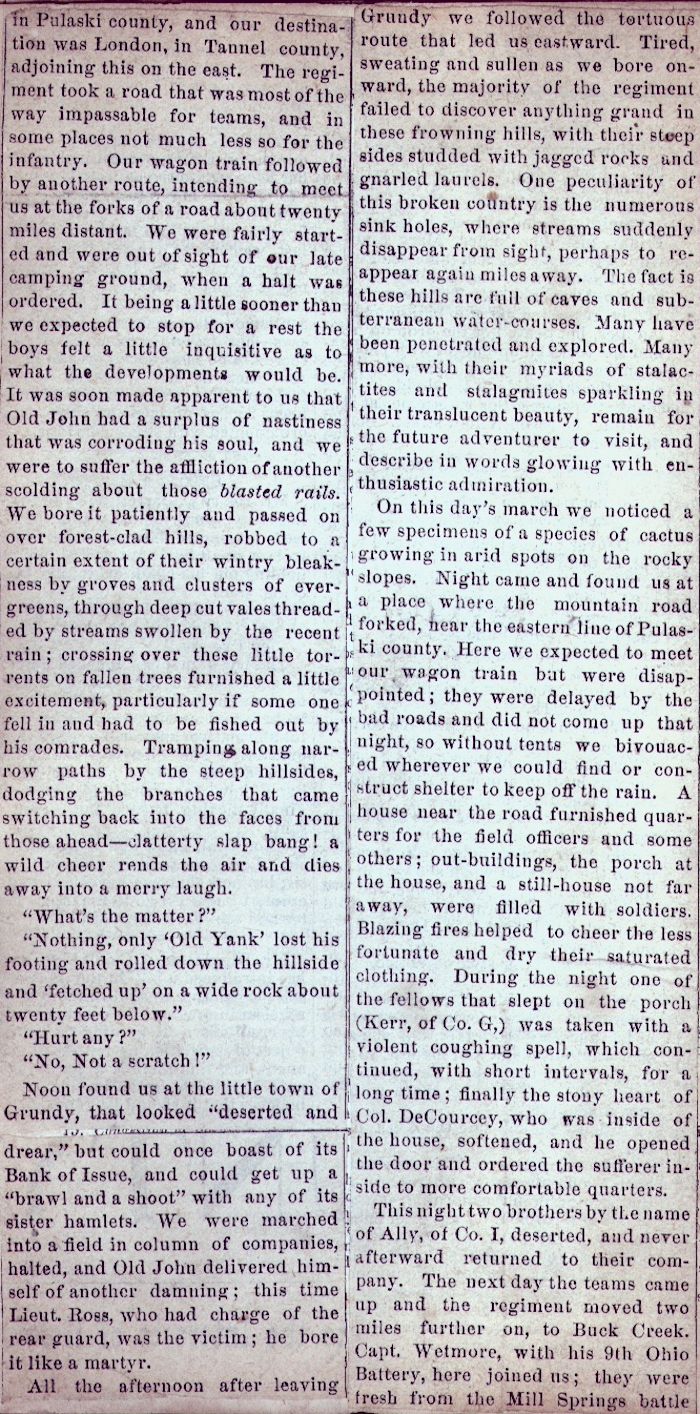 in Pulaski county, and our destination was London, in Tannel county, adjoining this on the east. The regiment took a road that was most of the way impassable for teams, and in some places not much less so for the infantry. Our wagon train followed by another route, intending to meet us at the forks of a road about twenty miles distant. We were fairly started and were out of sight of our late camping ground, when a halt was ordered. It being a little sooner than we expected to stop for a rest the boys felt a little inquisitive as to what the developments would be. It was soon made apparent to us that Old John had a surplus of nastiness that was corroding his soul, and we were to suffer the affliction of another scolding about those blasted rails. We bore it patiently and passed on over forest-clad hills, robbed to a certain extent of their wintry bleakness by groves and clusters of evergreens, through deep cut vales threaded by streams swollen by the recent rain; crossing over these little torrents on fallen trees furnished a little excitement, particularly if some one fell in and had to be fished out by his comrades. Tramping along narrow paths by the steep hillsides, dodging the branches that came switching back into the faces from those ahead--clatterly slap bang! A wild cheer rends the air and dies away into a merry laugh.
What's the matter?
Nothing, only 'Old Yank' lost his footing and rolled down the hillside and 'fetched up' on a wide rock about twenty feet below.
Hurt any?
No, Not a scratch!
Noon found us at the little town of Grundy, that looked deserted and drear, but could once boast of its Bank of Issue, and could get up a brawl and a shoot with any of its sister hamlets. We were marched into a field in column of companies, halted, and Old John delivered himself of another damning; this time Lieut. Ross, who had charge of the rear guard, was the victim; he bore it like a martyr.
All the afternoon after leaving
Grundy we followed the tortuous route that led us eastward. Tired, sweating and sullen as we bore onward, the majority of the regiment failed to discover anything grand in these frowning hills, with their steep sides studded with jagged rocks and gnarled laurels. One peculiarity of this broken country is the numerous sink holes, where streams suddenly disappear from sight, perhaps to reappear again miles away. The fact is these hills are full of caves and subterranean water-courses. Many have been penetrated and explored. Many more, with their myriads of stalactites and stalagmites sparkling in their translucent beauty, remain for the future adventurer to visit, and describe in words glowing with enthusiastic admiration.
On this day's march we noticed a few specimens of a species of cactus growing in arid spots on the rocky slopes. Night came and found us at a place where the mountain road forked, near the eastern line of Pulaski county. Here we expected to meet our wagon train but were disappointed; they were delayed by the bad roads and did not come up that night, so without tents we bivouacked wherever we could find or construct shelter to keep off the rain. A house near the road furnished quarters for the field officers and some others; out-buildings, the porch at the house, and a still-house not far away, were filled with soldiers. Blazing fires helped to cheer the less fortunate and dry their saturated clothing. During the night one of the fellows that slept on the porch (Kerr, of Co. G,) was taken with a violent coughing spell, which continued, with short intervals, for a long time; finally the stony heart of Col. DeCourcey, who was inside of the house softened, and he opened the door and ordered the sufferer inside to more comfortable quarters.
This night two brothers by the name of Ally, of Co. I, deserted, and never afterward returned to their company. The next day the teams came up and the regiment moved two miles further on, to Buck Creek. Capt. Wetmore, with his 9th Ohio Battery, here joined us, they were fresh from the Mill Springs battle