Web Author's Notes:
The 16th Ohio Volunteer Infantry, as part of Col. John F. DeCourcey's 26th Brigade, marched south from their stronghold at Cumberland Gap toward the small town of Tazewell, Tennessee, on August 2, 1862. The purpose of their expedition was to find and acquire forage and supplies for the Federal garrison holding Cumberland Gap. During several days of foraging and extended trips further south of Tazewell, some periodic skirmishes with Rebel cavalry were encountered but the troops were successful in filling their wagons with much needed food and hay for their animals. Col. DeCourcey knew a large Confederate force was camped south of the Clinch River, not too distant from Tazewell, however, did not anticipate any major engagement would take place. On the Wednesday morning of August 6, however, DeCourcey would be confronted by a vastly superior Rebel force.
There exists a number of detailed accounts of the Battle of Tazewell. As with all such events, the accounts differ, somewhat, and certain facts told by each are inconsistent. However, by reading each account one can eventually gain a rather clear picture of the actions and movements that occurred that warm summer day, 15 miles south of Cumberland Gap.
The following is a brief account of the Battle of Tazewell as reported by General George W. Morgan, commander of the 7th Division, Army of the Ohio:
Early in the morning of the 6th instant, not wishing to bring on a general action, I ordered Colonel De Courcy to return to this post, but he was attacked at daybreak on that day. Considering enemy's forces the attack was feeble. Two of his regiments surrounded two companies of the Sixteenth Ohio, detached to protect a section of artillery. The enemy's movement was well executed, and had it not been for the coolness and gallantry of Lieutenant Anderson we would have lost two pieces of artillery. Although surrounded by a vastly superior force, the two infantry companies, under command of Captains Edgar and Taneyhill, fought heroically, and three-fourths of them succeeded in cutting their way through to their regiments. But we fear that Captain Edgar, an officer of great merit, was killed, and Captain Taneyhill taken prisoner. There were several instances of distinguished conduct both on the part of officers and soldiers. A soldier of the Twenty-second Kentucky was shot through the neck and fell. His gun dropped from his hands; his foe contrived to advance upon him, when the wounded hero grasped his gun, rose to his feet and shot the rebel soldier dead when within five paces of him, when he again fell weltering in his blood. Two soldiers of the Sixteenth Ohio had lost their way and were going toward the enemy, when Lieutenant-Colonel Gordon, of the Eleventh Tennessee, hailed them, demanding their regiment. With coolness and courage they required him to declare his rank and regiment and took him prisoner. Resuming their march by a circuitous route they rejoined their commands. Gordon speaks highly of their courage and courteous treatment. At 3.30 p.m. a courier arrived from Colonel De Courcy and asked for aid. Leaving three regiments to guard the Gap I marched with my remaining force to his assistance, but when within 2 miles of Tazewell I met him on his return. The enemy left the field at 5 o'clock and maintained his position until 7 o'clock p.m. The enemy's loss is believed to be considerable. I did not pursue, lest with a superior force, he should gain my rear. GEORGE W. MORGAN, Brigadier-General. Col. J. B. FRY.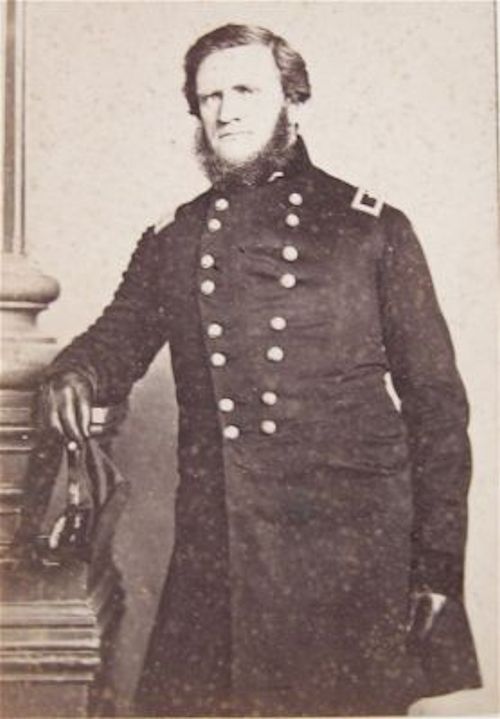 General George W. Morgan